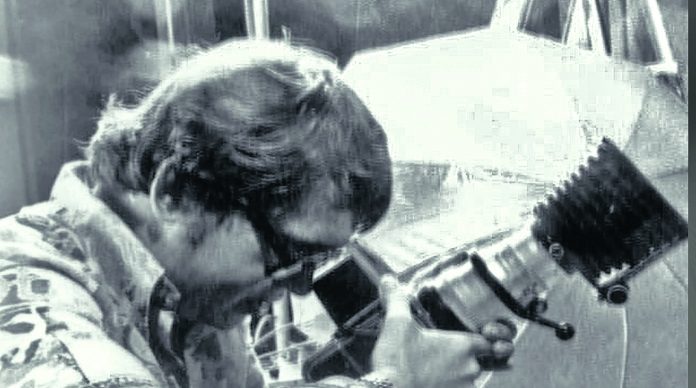 Aruba has its own Vermeer, and his work is not any less impressive than the Dutch masters. We are talking about Rob Vermeer, 77, who was born in the Netherlands but his destiny brought him to Aruba, which became his home. This week, the business that Rob Vermeer established, Checkpoint Color is celebrating 50 years of existence with a big exhibition of all their years of photography. But Rob Vermeer's story is more interesting than just the thousands of photos he took during his career.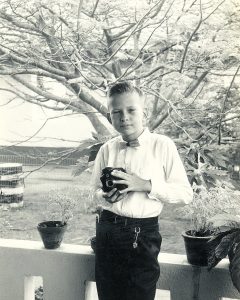 Rob was born in Zwanenburg, the Netherlands, and has an uncle living in Curaçao. It was after the Second World War, and his father, searching for a better future, decided to move to Curaçao. He left before his wife and young son, to prepare their new life. However, the voyage on a cargo boat was very heavy, and Rob's father became sick with pneumonia and died on the island. Even so, his widow Elisabeth made the decision to go to Curaçao with her son.
A few years later, Elisabeth Vermeer found work as manager of the building that is now the seat of government, the Bestuurskantoor. Back then it was known as Pasangrahan, a word meaning guesthouse. The building was built to house officers and as barracks, and afterwards it became the Bestuurskantoor.
Rob spent his childhood in that building, in the midst of all that activity, where he experienced official visits. When executives from Curaçao visited Aruba, they would stay there. Dutch executives who came to Aruba briefly also stayed there. And perhaps most interestingly, prince Bernhard also stayed there. And a young boy witnessed everything, thanks to his mother's work.
"My mom had to make sure the place was in order. For prince Bernhard's stay, they had to borrow a bed because this was not the place for a royal visit – had to borrow a bed, chairs and other furniture. And the day that prince Bernhard had to leave Aruba, all the furniture was returned to the owners. But the prince's flight was grounded, and the prince had to go back to an empty room. He didn't have anything because even his suitcase was gone. The story is that he had to borrow even a toothbrush."
When the building became Bestuurskantoor, Elisabeth Vermeer went to work at the national library until she retired.
But those experiences helped formed Rob, who found interest in camera and photography during his adolescence. He went to Colegio Arubano and was taking pictures of his friends and family. When he as 15, he started washing and enlarging his own photos. After finishing school, Rob considered becoming a veterinarian, but he didn't like the idea of having to euthanize animals. The other option, to become a pilot, was not possible because Rob wore glasses. So what was left was his hobby, and so he went to the Netherlands to study photography.
There was no doubt that the young photographer would return to Aruba after finishing his studies. Aruba is his home, and his mother still lived on the island. He began working at some of the studios in Aruba, taking pictures of people's weddings, and in his own time he would photograph the nature of the island. During the course of time, he would get requests for commercial photography. Rob was being recognized for his work.
But back then, he still had to send all the negatives abroad to develop if he wanted color photography, so he started thinking of establishing his own business. As a young man he didn't have the necessary capital, so he had to go to the bank, and Rob says that back then Aruba Bank gave him all the necessary cooperation. What also helped was that some of his family members believed in him and helped with the financing for Checkpoint Color. This trust, the culture of supporting each other and allowing a young photographer achieve his business is the other side of Aruba's beautiful history, the Aruba that Rob always loved.
The same spirit of collaboration is still alive these days, because it was artist Natusha Croes, which the family considers a daughter, who convinced Rob to exhibit his photographs taken during his career and the many years of Checkpoint Color.
The exhibition will open on Wednesday, August 3rd, and will celebrate more than just the success of a business of photography development which managed to survive the digital era and the challenges of a Caya Grandi – Main Street – which say most businesses close their doors.
Rob Vermeer followed his instinct to start his photo printing business and together with his wife Marjorie, who worked with him, he expanded Checkpoint Color into a business that became synonym with Aruba also. Which Aruban hasn't been to take his driver's license or passport picture at Checkpoint? Or participated in the glamour shots? And brought their treasure on film to print?
And even though digitalization impacted the photo printing business, the hability to reinvent to keep with the times is something that is in Vermeer's blood.
Today, Fernando, son of Rob and Marjorie is in charge of Checkpoint Color, to make sure that photographs taken by smartphone or digital camera can become a spectacular piece of framed art, or that old photographs of ancestors get a new life.
Rob Vermeer is happy to see a new generation of young photographers who like him know how to combine commercial photography with their own creations.
If there's advice this professional photographer has to give, it's to always remember that the person is central. The background of an image needs to be just that. The photographs of people who last are those who reflect the unique personality of each individual. And that is what, for Rob Vermeer, is the essence of photography.