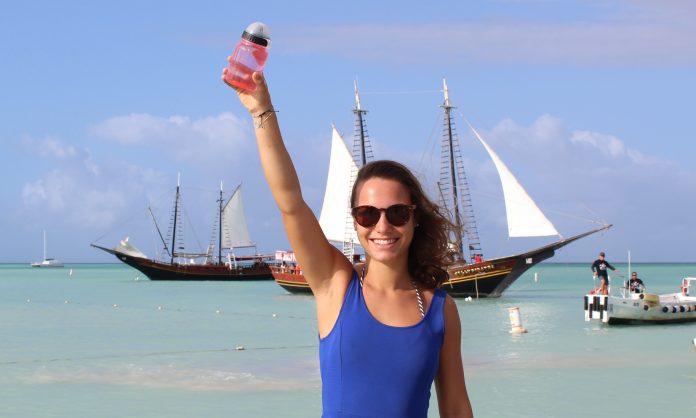 Jolly Pirates raises a re-usable cup to Green Solutions with tourists aboard the most popular tourist attraction. With a special invitation to their guest to participate in their campaign of #Carryyourcup, Jolly Pirates proves to be eco-friendly and support Green initiatives.
It's a simple concept. Jolly Pirates Snorkel and Sunset Charters asks visitors to help to reduce waste with the #carryyourcup pledge. Bring your own cup or purchase a Jolly Pirate reusable BPA-free option instead of using wasteful single-use disposable plastic.
You can do your part to reduce waste by using a reusable cup aboard a Jolly Pirates morning or afternoon snorkel cruise or a lovely sunset sail. Guests are encouraged to join the movement, to limit wasteful plastic in Aruba's landfill and from inadvertently polluting the Sea.
"If you love the ocean like we do, you naturally want to do something about it", explains the ship's Captains Julio, Ron and Edwin.
Reusable cups can be purchased at the Jolly Pirates souvenir shop. Both great-looking and durable, the Jolly Pirates BPA-free reusable cup provides an easy way to join the #carryyourcup pledge for a cleaner Aruba and a healthier environment for sea critters, fish and wildlife.
The Jolly Pirates #carryyourcup campaign is just one of many eco-friendly ways in which the popular excursion company, is striving to support more clean Aruba efforts. The Jolly Pirates team participates in Aruba Reef Care projects, Beach clean ups and also participates in the #5minutebeachcleanup to pick up trash that others have left behind.
You can purchase a souvenir cup when you visit the Jolly Pirates ticket shop at MooMba Beach.
You can also make paperless reservations online and can save up to 20% on your Jolly Pirates Cruises on the company's new website www.jolly-pirates.com or call 586 – 8107 for more information.q