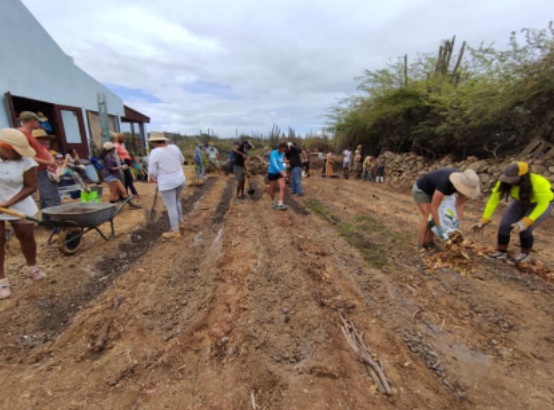 During the Covid-19 pandemic, many Arubans started planting because they saw the importance of growing their own food in times of shortage. But not many knew how to plant in such a way to get food in a short time.
Some Arubans still did not get a single crop after two years at all. For this reason, Eco Living Aruba and Community Matters took the initiative to organize a Non-for-profit workshop that teaches Arubans how to plant a sustainable food forest in their own garden. Roland van Reenen, a world-renowned forest farmer and syntropic farming guru, was especially flown over from Curaçao as teacher for this workshop. Tickets sold out in 2 days.
Last chance – This month the organisation organizes the last 3-day Syntropic Agroforestry workshop of 2022. This may even be the final opportunity for Arubans to learn how to easily turn a garden into a beautiful food forest and eat from it every day.
The dates of the workshop are as follows:
Friday 20 May : 6pm – 9pm – Theory
Saturday 21 May : 8am – 4pm – Practice
Sunday 22 May : 8am – 4pm – Practice
There is also an information evening on Wednesday 18 May between 6pm-9pm for those people that can't make it to the entire workshop. People can register and get more information by sending an email to rose@ecolivingaruba.com.
Roland van Reenen teaches Arubans during the workshop the principles of Syntropic Agroforestry – a simple and effective way to turn (a part of) your garden into a sustainable food forest from which you can eat every day in the future. It is a misconception that we first need rain to plant plants; instead, we need plants for it to rain. – Roland van Reenen. So let's make Aruba green again.