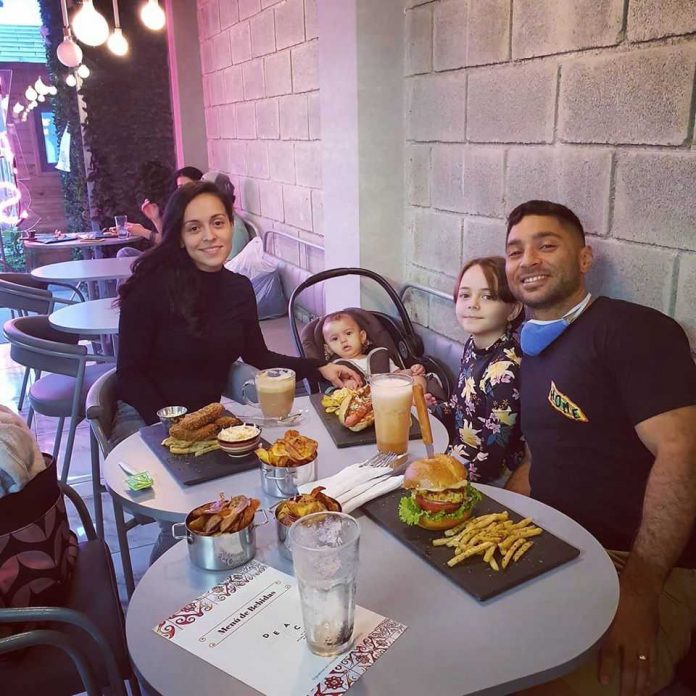 Aruba Today is connecting to our beloved readers who have a special bond with the island. We have columns like 'Aruba to me…' and 'My favorite hotel staff' where our visitors can send pictures and words that express their love for Aruba and its workers in the hospitality industry. When this COVID-19 crisis occurred we sought Arubans living abroad to hear their experience during the first wave. One of them is Jairo Loefstop who lives in Costa Rica. Today he follows up on his story about life during the second wave.
"I am Jairo Loefstop, 36 years of age and I live in San Jose, Costa Rica with my wife Kathy Mora and my daughters Jade and Zoey. We live in the worst affected district and we have been in Orange (near health system collapse) alert for over a month." At the time of writing Costa Rica has had over 30,000 cases and 300 deaths. Father's Day June 20th 2020 there were only about 2000 cases and a bit more than 10 deaths. At that time Costa Rica was one of the role models of how to handle the pandemic.
Second wave
Since Father's day in June, Costa Rica has regressed in terms of COVID-19. Loefstop: "As a country we were barely getting new cases each day. Restrictions were lifted and our gym was allowed to open to 50% capacity. We were allowed to drive until 10 pm. It really started to feel normal-ish again. Today, August 15th, Mother's day, we are barely allowed to drive until 7 pm."
The return to a stricter quarantine and a traffic light system during Costa Rica's pandemic was caused by illegal migrants from Nicaragua carrying the virus and spreading them in lower classed neighborhoods. "Costa Rica has no army so we were overrun by illegal immigrants from Nicaragua where the existence of COVID-19 has been largely ignored by government officials and the president himself until members of his inner circle started dying from 'lung infection', Loefstop explains. "In the meantime the agricultural sector kept hiring illegal migrants without testing them which kept the flow going. Also, locals here started going out more and meeting with people they have not seen in a while. By early July the term local transmission was added to our daily COVID-19 briefing." Local transmission confirmed that the first part of the pandemic mostly hit the wealthier class, who most if not all can afford to stay home and not spread it, he continues. "Sadly our lower class here was exposed through countless migrants as mentioned above. This showed the public that there is a big group of people here that cannot afford to have a quarantine and also exposed the living conditions of our migrants. These often live together with 2 to 3 families in the same house. It's the saddest part because you are filled with anger, but as a fellow migrant that has lived with roommates it's hard to blame them, especially like my dad reminded me that most of these people don't even have enough food on the table." The other part that does anger Loefstop is the greed of the large agricultural firms that kept hiring and facilitating these illegal migrants and did not even have the decency to test them and follow health protocols. Lowering costs in these times like that is inhumane and has further plunged our economy into the abyss, he states.
Wake up
Last but not least are the social gatherings that took place, illegal house parties, illegal motel parties, illegal baby showers, church gatherings not respecting sanitary measures etc.
The 2nd wave has brought official unemployment over 20%, a near collapse of our public health system, default of private debts and increase in domestic violence to mention a few.
Loefstop: "The hard part is that as a country Costa Rica is doing well in comparison to others and the public health system has done a marvelous job to avoid the country falling into red alert and total lockdown. I hope the government in Aruba starts recognizing Aruban students that started their medical career here, because the system here is to be admired and to be reckoned with. Better yet Aruba can learn a thing or two. To all doctors that graduated here you are MORE than good enough and the training you had here is showing their best face in these most difficult of times."
For them as a family the past time was hard. They lost one of their dogs who had a genetic problem and was misdiagnosed by the vet and had spent over $1000 in health care for the dog. The pet was sent home without the right treatment and they didn't know. "Due to the stress and changes the family had gone through, he had a crisis of epilepsy which led to brain damage and the overdose of drugs at end wasn't something he could handle and passed away", Loefstop says.  "We are surviving through our online services and selling boxing and functional training products. UberEATS has contributed to an 80% permanent shut down of local restaurants. We sell healthy food from our cafeteria located inside of our gym, yet people are at home ordering three pizzas for the cost of two very often, not working out and doing work from home becoming even more sedentary. I can't blame them, I don't think people really understand the gravity of what's happening, it's a wakeup call and people are not waking up."
Family fighting challenges
Their gym and cafe, Loefstop says, means nothing for these users when there is a need to feed their families at a lower cost and they can 'workout' online for free causing more than 30% of the gyms being closed. "At least the physical therapists are doing well due to injuries caused for not having proper guidance, he jokes. "Soon we will be launching our virtual product www.best803virtual.com and hope to be able to continue helping people from all places around the globe to overcome these COVID challenges by at least taking care of their bodies and the food they eat so they can stay safe and healthy for their families." His wife has worked next to him during this time and if anything has been made clear it is that nothing matters more than being with your family and staying healthy. "We are broken with the loss of our dog and pushing hard every day until the storm passes. We have lowered our costs by relocating and eating mostly from the farmers market, we're happy to be living in a country that has been blessed with fruits and vegetables. It's very affordable and first quality, we make sure to support local businesses as we understand how hard it is to have your own. My wife is dedicated to the business while I still work for a multinational company." Needless to say, they sleep less now than when their businesses were operating at maximum capacity. Hunger for success, motivation, a supportive mother in law (who he cannot go without saying how much of a support and great help she is to the family), healthy food and workouts are what gives them the energy to wake up every day and continue chasing their life dreams, Loefstop shares.
"The government has made it pretty clear that gyms are not opening. According to them 'they are closed' spaces but it is okay to spend one hour at the hardware store which most of the time is filled with people in a closed building. We were fast to install heavier sanitary protocols and feel that we were a "role-model" compared to a lot of other businesses. We are still paying taxes, municipal and sanitary permits and still not allowed to open." His eldest daughter has not been physically to school since February and his youngest just turned one year old about a month ago, without a doubt they have been the light to their lives during this time.
Aruba
As far as Aruba is concerned he knew the 2nd wave was going to hit hard due to the fact that barely anybody was applying social distance anywhere. "It was visible on photos and videos on social media. The opening of tourism and bars could have been handled better and there was sufficient time to set up task forces since Aruba was technically COVID free for a while. The fault for the current outbreak is from pretty much everybody and not only the government." He has been following the development of cases and relatively Aruba has been hit harder than Costa Rica. "It angers me because I have family members that are at risk and the thought of losing them quite frankly scares me especially since I am not home."