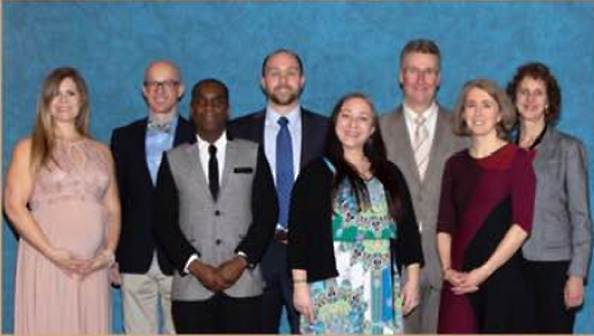 Aruban Richard de Meij was chosen by the Connecticut Council of Language Teachers as Language Teacher of the Year for 2018-2019. De Meij is a Spanish and French teacher at Hartford Public High School's Academy of Nursing and Health Sciences. The Teacher of the Year Committee was impressed by the passion and energy that he brings to the profession. It was clear to them that his high energy approach is very effective in engaging the students in his classes. In fact, De Meij is an inspiration to his students to positively impact their own communities, as he has done in his own communities.
De Meij is an outstanding advocate for students in his classes, and for language and culture education in general. He is committed to social justice in his classes and school, and he has worked to become a specialist in equity education. He thinks about how decisions about learning will impact all students, and how to reach all students in terms of their unique paths to proficiency. He strategizes ways to make all voices heard, especially those that have been traditionally left out of the conversation.
De Meij's leadership path is extensive. He has presented and coordinated workshops at CT COLT's conference spanning many years. He has shared his numerous skills at the Northeast Conference on the Teaching of Foreign Languages' (NECTFL) conference. He has even served in a leadership capacity for the American Council on the Teaching of Foreign Languages (ACTFL) Special Interest Group dedicated to the Teaching of African American Students. Currently, he is working to organize the Greater Hartford Festival of Languages to take place in the near future. Another area of leadership that can't be overlooked is his commitment to languages in the community. He has worked to bring his students into the community to interact with Haitian families in Hartford churches. He worked to find speakers of French in the community, and has committed to bringing students to work with the families to practice their language skills, and in service to the families. It's hard to think of a better example of "Communities" in terms of ACTFL's World Readiness Standards than the work that De Meij is already doing for his students.
De Meij is an exemplary world language teacher. He speaks eight languages with differing levels of proficiency. He is also learning two other languages! He teaches both French and Spanish with an energy and passion that is contagious to his students. He understands and implements high leverage teaching practices in order to effectively promote language proficiency and reach the World Readiness Standards for his students. He is a demonstrated leader at the school, district, regional, and national levels.
Biography
Educated at:
– Colegio Arubano (Aruba)
– University of Florida
– University of Utrecht (Neth.)
– Central CT State University
Degrees in:
– Speech/Lang.Pathology
– Applied Linguistics
Language Fluency in:
– Dutch (native)
– Papiamento (native)
– English (native)
– Spanish (near-native)
– Portuguese (near-native)
– French (fluently)
– German (fluently)
– Italian (fair)
Other Languages Studied:
– Japanese & (modern) Greek
– Bulgarian & Tagalog
– Afrikaans (understood)
– Polish & Mainer (Mainah)
.
Currently Studying:
– Arabic (Egyptian MSA) q
Credits: Hartford Public School.