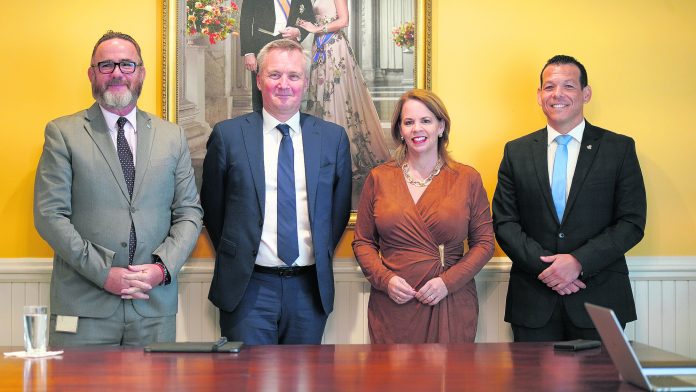 Yesterday afternoon, the Aruban minister of Justice and Social Affairs, Mr. Rocco Tjon together with his colleagues, prime minister Mrs. Evelyn Wever-Croes and the minister of Labor, Integration and Energy, Mr. Glenbert Croes met with the State Secretary for Justice and Security of the Netherlands, Mr. Eric van der Burg. Seeing that the subject of foreigners regards different facets and falls under various ministries, it was chosen to held a meeting in this constellation.
Among others, they discussed the subject of the spending plan for the immigration chain, the reopening of the border with Venezuela and possible future collaborations. According to a press release it was an extremely positive meeting, where they discussed the cooperation that Aruba is receiving from the Netherlands regarding asylum, aspects of migration and immigration regarding our border control.
Regarding the reopening of the border with Venezuela, both the government of Aruba and the Netherlands are aware that the reopening will take place eventually; however, the security of our border and security on our island remains a priority. In this context, the judicial security council is evaluating the possible impact of the reopening on asylum and security on our island and in general, thus it is a topic that needs further evaluation in order to come with a policy plan to execute this in due time.
Finally, they also discussed the subject of possible collaboration in the near future, and here they spoke of aspects of detention and forensic care for detainees, as well as receiving technical help regarding asylum.
Aside from this, they also discussed human trafficking and human smuggling, and explained the challenges in this area in the context of the TIP-report issued by the United States.