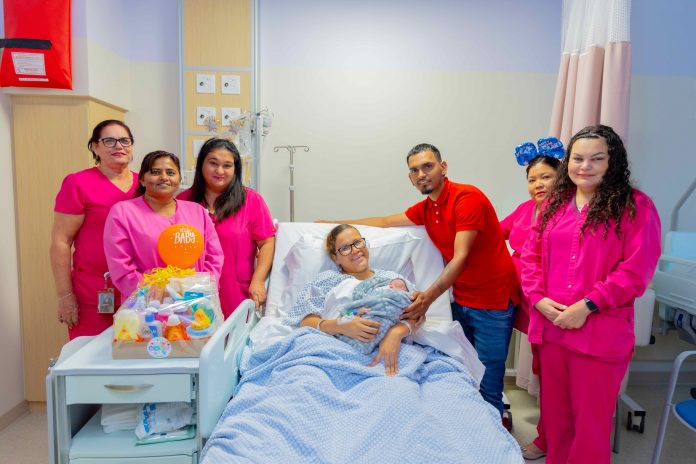 Exactly at 3:30pm the first baby of the year 2023 was born at the Horacio Oduber Hospital (HOH). A moment of happiness and celebration for Aruba and the team at HOH on the first day of January 2023.
It is a tradicion for Aruba to be pending to know who will be the first baby for the New Year, and for 2023 it is a baby boy. From the stroke of midnight, the entire personnel of the department of Maternity were on alert, but no mothers entered the hospital until after noon on the 1st of January 2023. It was exactly at 3:30pm that the baby of the year, Marvick Mauricio Irausquin, was welcomed.
With happiness, his mother Yoryina Brown and father Marvin Irausquin held their baby for the first time. This is their first child, and they named him Marvick Mauricio. Baby Marvick was born after gynecologist Dr. Daphne Moreta performed a C-section in the operation room. Afterwards, pediatrician Dr. Eric Arends did the checkup, and now mom and dad have their cute baby in their arms. Baby Marvick weighed 3020 gram and has a length of 50cm.
Mom and dad are said to be extremely happy that baby Marvick is healthy, and thank Dr. Moreta, Dr. Arends and the entire team of the operation room and the department of maternity at the HOH for guiding the entire process and giving them the necessary support.
They thank Frasa Trading, Compra Trading and Swift Distributions for the different gifts and donations made to the baby of the year 2023.
Up until late in the afternoon, no other babies were born, so it was a calm day at the maternity department.