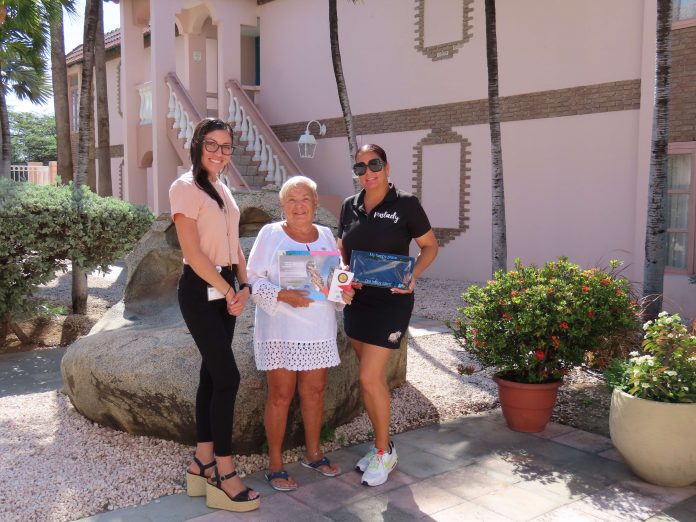 The Aruba Tourism Authority recently had the great pleasure to recognize an Emerald Ambassador of Aruba with an honor certificate. The honor certification is presented on behalf of the Minister of Tourism as a token of appreciation and to say "Masha Danki" to guests whom have visited Aruba for over 35 years consecutively.

Honoree was:
Emerald Ambassador (35> years consecutively visiting Aruba)
Mrs. Anne Connie Benson
The greatest award we provide is the Emerald Ambassador certificate, which is granted to travelers who have visited Aruba continuously for 35 years or more. The ceremony was significant to us because it was a once-in-a-lifetime opportunity to celebrate guests who had been coming to Aruba for more than 35 years.
Ms. Kimberley Richardson representing the Aruba Tourism Authority, and members of the Caribbean Palm Village bestowed the honor certification to the honoree, presented her with gifts, and also thanked her for choosing Aruba as her favorite vacation destination and as her home-away-from-home.

Top reasons for returning to Aruba, provided by the honoree was:
Mrs. Anne Connie Benson

Aruba's safety
The friendliness of the locals
The timeshare resort she always stayed at – Caribbean Palm Village
Aruba's year-round sunny weather
Aruba's nice sandy beaches and picturesque sunsets