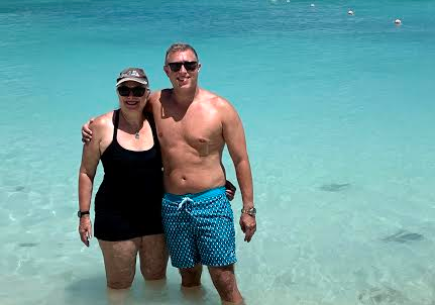 We would like to portrait you! By inviting you to send us your favorite vacation picture while enjoying our Happy Island. Complete the sentence: Aruba to me is ……. Send your picture with that text (including your name and where you are from) to: news@arubatoday.com and we will publish your vacation memory. Isn't that a special way to keep your best moments alive? Please do note: By submitting photos, text or any other materials, you give permission to the Aruba Today Newspaper, Caribbean Speed Printers and any of its affiliated companies to use said materials, as well as names, likeness, etc. for promotional purposes without compensation.
Last but not least: check out our website and Facebook page! Thank you for supporting our free newspaper, we strive to make you a happy reader every day again.
Have a look at Beth Ellin from Las Vegas. She send us a great picture and wrote:
"Aruba to me is….. Love at First Sight!
Beth: "We arrived in Aruba in 1989 as a fluke. But we have been visiting for the last 30 years by CHOICE. In 1989 I received $750 in American Airlines vouchers after being bumped on a flight. They were about to expire, so I went to the airlines ticket office (they had them back then) and said, "Where is the farthest we can go for $750? She said Paris or Aruba. I had taken my son to Paris, so we picked Aruba. I asked the lady, "Where is Aruba?"
She said, "I have no idea. But people seem to love it." So I traded the voucher for two tickets for a week-end at the Holiday Inn. It was love at first sight. I thought Hawaii had the most beautiful beaches until we saw Palm Beach. I don't think I had seen that many shades of blue. Now I knew what color "azure" was.
But what we like best about Aruba is the people. We now have life-long friends who live on the island who we see every trip. We've met some Dutch visitors and have spent time at their home in Holland. And I learned how to cook funchi!
We love Aruba. I hope I can spend my next 30 years in Aruba every July!q