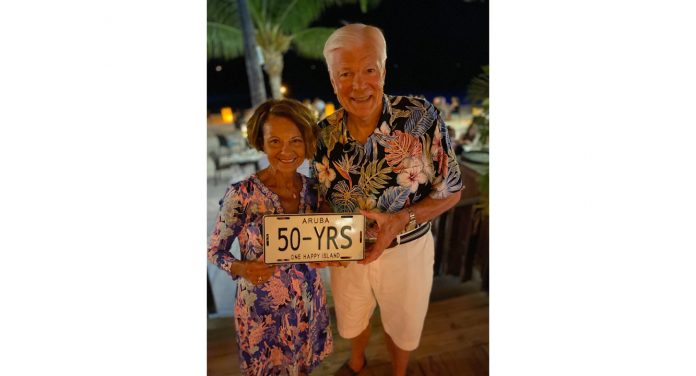 Aruba Today likes to welcome readers to participate in our newspaper. You can see that in our Honored Guest-publications, specials like on Valentine's Day and on other occasions. Throughout the year you are always welcome to send us your vacation picture(s) together with completing the sentence: Aruba to me is …….. (Email: news@arubatoday.com)
For today's newspaper we received a great picture from Mary and Don Alhart, US. They wrote:
"Aruba to us is wonderful memories of spending our honeymoon on "One Happy Island"- 50 years ago- in January, of 1970.  We were here -last week- planning our family celebration- when we had to shorten our vacation and return home when the borders closed because of the Coronavirus. We still plan to return to the Marriott Surf Club with our children and grandchildren-in August – to celebrate our Golden Anniversary and share a place which is so very special to us. It was sad to leave -so abruptly on Monday of this week. We look forward to returning to our "Home away from Home"— for many more years to come." (Picture taken at Barefoot Restaurant on Sunday evening, March 15, 2020).