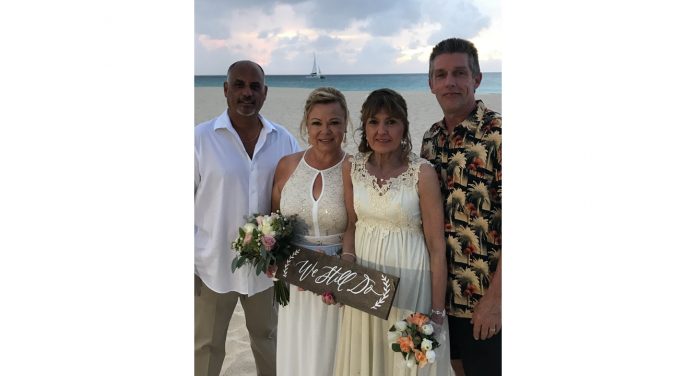 Aruba Today likes to welcome readers to participate in our newspaper. You can see that in our Honored Guest-publications, specials like on Valentine's Day and on other occasions. Throughout the year you are always welcome to send us your vacation picture(s) together with completing the sentence: Aruba to me is …….. (Email: news@arubatoday.com)
For today's newspaper we received a great picture from Nancy Fletch from Buffalo New York. She wrote:
Aruba to us is….  Love and Romance!
Tom and Betsy Lyons celebrated their 40th wedding anniversary and Chuck and Nancy Fletch their 10th. Both couples decided to renew their vows on their favorite island. They have been coming to Aruba for many years and couldn't think of a better place to renew their vows. The ceremony took place at the Costa Linda Beach Resort.
Both couples enjoy their morning coffee while reading the Aruba Today.
Aruba Today wishes Tom & Betsy and Chuck & Nancy many more years together filled with Love and Happiness! q