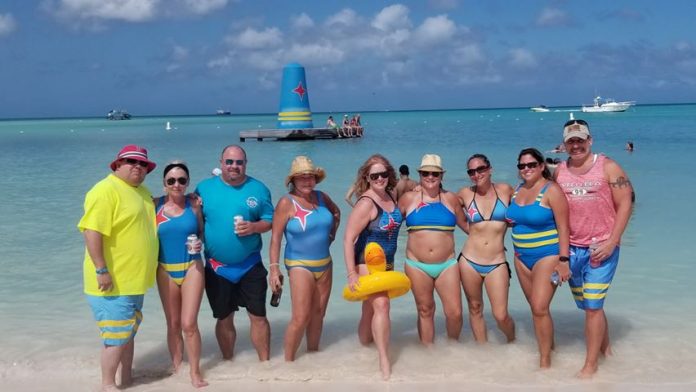 Aruba Today likes to welcome readers to participate in our newspaper. You can see that in our Honored Guest-publications, specials like on Valentine's Day and on other occasions. Throughout the year you are always welcome to send us your vacation picture(s) together with completing the sentence: Aruba to me is …….. (Email: news@arubatoday.com)
For today's newspaper we received a great picture from Elaine Dellorfano of the Boston Gang. They wrote:
Aruba to us is….  FRIENDSHIP and HAPPY TIMES!
Bill Belliveau, Brian, Tay Lagrasse, Elaine, Christine, Stacy, Lainie, Lauren and Matt Brammer love spending Thanksgiving in Aruba. They love Aruba so much that they gladly show it thru their matching Aruban Flag Swimsuits!!