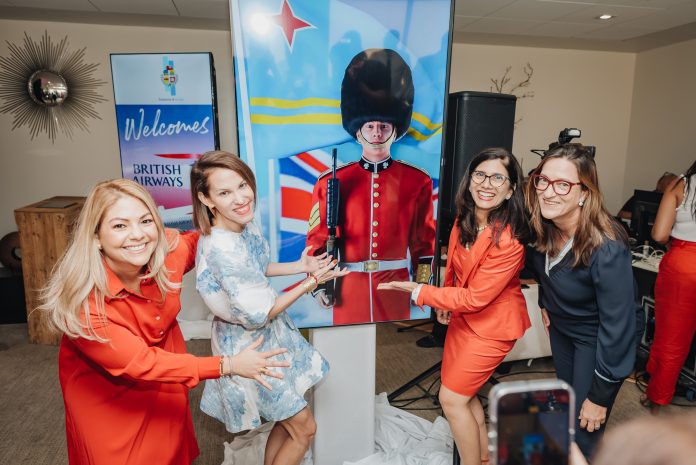 It is with great pride and much pleasure that Aruba Airport Authority N.V. (AAA) can officially announce the addition to an existing European route out of the United Kingdom. Starting in March of 2023 we will be able to also welcome -British Airways with a twice weekly service out of London Gatwick airport next to our current partner TUI UK who operates seasonal service out of this gateway.
British Airways will fly to Aruba year-round, on Thursday and Sunday, with a stop in Antigua. The LGW-AUA flight will be operated on a 336-seat Boeing777-200ER, offering 32 Club seats, 52 World Traveller Plus and 252 economy seats.
AAA, whilst working closely on this with the Aruba Tourism Authority, has been in talks with British Airways since 2015 during various routes conferences and at their head quarters in London. During the past 10 months these talks, and subsequent negotiations intensified and have now crystalized in being able to announce this service today.
Flight details
Flight BA2157 Depart London Gatwick 10:00 – Arrive Antigua 13:35
Flight BA2157 Depart Antigua 14:35 – Arrive Aruba 16:30
Flight BA2156 Depart Aruba 18:30 – Arrive Antigua 20:15
Flight BA2156 Depart Antigua 21:15 – Arrive London Gatwick 10:15
At the moment our market in Europe is being served by KLM and TUIFly Netherlands both operating out of Amsterdam and also TUI Airways limited out of London Gatwick. Currently the European market share represents 8% of the total amount of passengers that are handled at AUA Airport with 44 flights in the month of July adding up to a total amount of seats of 16,443 for this month. KLM operates 7 flights each week, TUI NL 3 flights and TUI UK 1 flight, being a seasonal operation.
London Gatwick Airport (LGW) is a major international airport located near Crawley, West Sussex, England, approximately 29 miles (47 km) south of Central London. LGW has handled 6.9 million pax in 2021 and pre-covid handled over 46 million. Gatwick was the world's first airport to have a direct mainline train link with a dedicated railway station connecting to more stations than any other European airport station. Time by rail to central London is 30 minutes with trains running every three minutes.
British Airways is a global airline, bringing people, places and diverse cultures closer together for more than 100 years. Serving their community and planet is at the heart of everything they do and are venturing into exciting sustainability initiatives. At British Airways, they are on a journey to create a better, more sustainable future and call this their "BA Better World" initiative. British Airways operates one of the largest and the most modern fleets of any airline in the world with aircraft such as the B777-200ER used for the Aruba route, B777-300, Airbus 350-1000 and Airbus 280-800 and many more. Currently British Airways serves the following destinations in the Caribbean region: Antigua, Bahamas, Bermuda, Barbados, Cayman Islands, Dominican Republic, Jamaica, Grenada, St. Kitts, St. Lucia and Trinidad and Tobago. The total amount of flights operated weekly into the Caribbean are 70 with a total seat capacity of 21,083 seats.
Mr. Joost Meijs, Chief Executive Officer of AAA commented: Another milestone for the island's tourism industry with a direct year-round scheduled service between London Gatwick Airport and Aruba. The introduction of this direct service is a goal we have long been working towards and we are thrilled that our air service development efforts have borne fruit. In a highly competitive arena, it is essential to have a direct year-round scheduled service and easy connections from major markets. This is a real team effort, and I am convinced that it will become a success!
AAA is proud to also report that for this year a total of 777,826 outbound passengers were handled at AUA Airport whilst 101,791 of these passengers were from Europe. Europe represents a total market share of 14% of all the arriving passengers. Overall, when looking at all markets served by AUA Airport, a recovery of 91% has been enjoyed up to now versus 2019. In July alone a recovery of 99% was reached versus the same month in 2019. The current market share per airline for Europe is now 66% KLM, 21% TUI and 12% TUI UK.