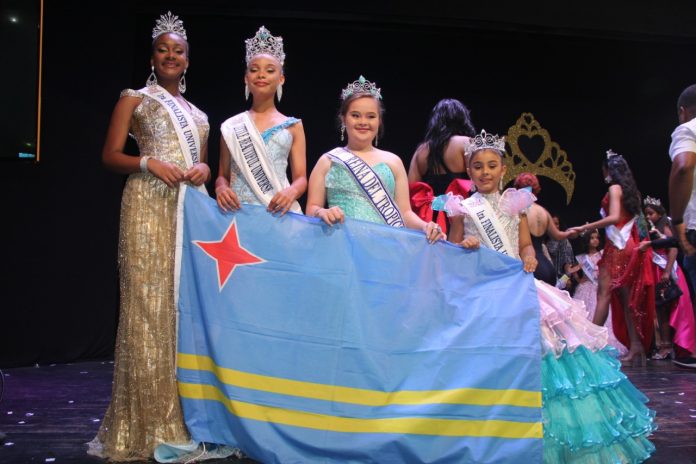 The Chaz Modeling & Talent School recently sent four representatives for the international event Agnes Universe, organized in Puerto Plata, Dominican Republic. These representatives did a great job representing our island, winning different international titles.
The final night of the International Beauty and Talent Festival 2022, Agnes Universe enjoyed a beautiful presentation of our Aruban beauties, who surely represented our island well. Annabell Bislip won the main title in her category, where her beauty and talent stood out. She was crowned Little Beautiful Universe 2022.
Thaheely Geerman, Mini Model Aruba, was the first finalist Mini Model Universe, and won the award for Fantasy Costume. Maya Gordon, Pre-Teen Model Aruba was crowned first finalist Pre-Teen Model Universe. Tanique Chan, Miss Teen Model Aruba won Miss Teen Tropical and also took home the award for best Fantasy Costume.
They arrived back in Aruba last week, triumphant with all their awards. It is expected that many doors will be open for these beauties who managed to show their talent and enthusiasm, having a bright future ahead of them.
These models participated in such an event on the international level for the first time. "Chaz Modeling & Talent School are extremely proud and happy with the presentation given by our students, and their parents, who gave so much dedication to their kids." According to Chaz Modeling, it wasn't an easy pageant, but the contestants managed to represent Aruba with dignity and give a great international presentation.