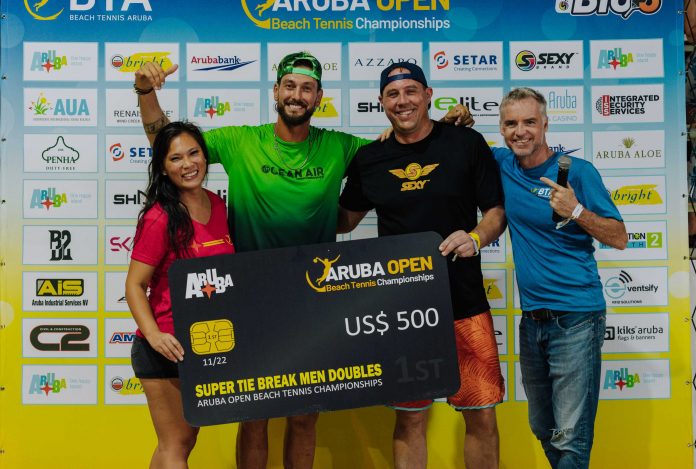 Aruba was once again honored with the kickoff of Aruba Open Beach Tennis Championships 2022 that will last this whole week until Sunday the 20th.
Sunday, November 13 was the kickoff where Aruba Open held its 1st edition of the Super Tie Break Cup. Players representing Aruba competed against players from around the world such as Germany, USA, France, Netherlands and much more. Teams that reach 10 point first will win the match.
The Super Tie Break Cup was just a warm-up. More like exhibition play for the opening night. Participation was based on invitation only. The first player to win the first edition of Super Tie Break Cup on Bushiri Beach was our own local player Aksel Samardzic.
The entire stadium at Bushiri Beach was full on opening night – not one empty seat was available.
Winners of the Super Tie Break Cup are:
For Doubles Women
Christin Nimtz – Germany
Sarah Bolsmann – Germany
Doubles Men
Aksel Samardzic – Aruba
Marty Salokas – USA
There are still many categories to be played. The big doubles finals weekend is this weekend where the championship will be held.
Aruba Open has live DJs and bands every night this week. It is free to watch the matches and it is complementary to enjoy the live entertainment. No tickets needed.
Everyone is welcome.