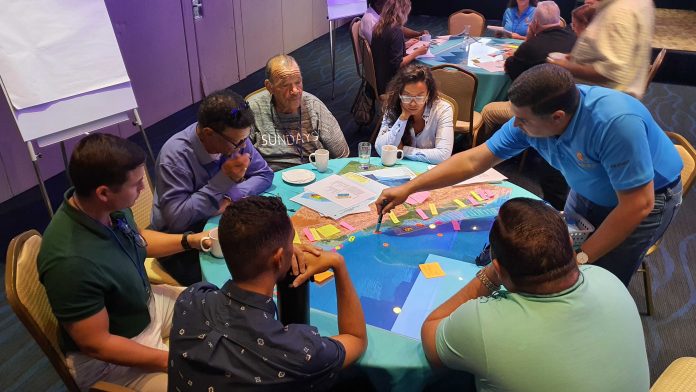 Aruba National Park Foundation (FPNA) as an independent organization in charge of conservation and management of terrestrial and marine protected areas in Aruba, announced that they have completed the consultation process for the management of the Marine Park Aruba in collaboration with more than 50 stakeholders.
The two sessions took place on the 35th and 27th of October and were a great success, seeing interactive participation and many different perspectives from the stakeholders in crucial positions for the management of the Marine Park Aruba.
The Zoning and Regulations workshop was a session where participants from various organizations involved in nature, community, authority, fishing and tourism contributed to the regulatory management of the Marine Park Aruba. During this workshop, the team of Marine Park Aruba which falls under the Aruba National Park Foundation presented the results of sessions that took place in October 2021, which involved the results of a SWOT analysis (Strengths, Weaknesses, Opportunities and Threats) and a situational analysis.
The participants also deliberated on how to incorporate these results in the zoning for the four marine protected areas (MPAs) that together form the Marine Park Aruba.
Sietske van der Wal, Interim Marine Park Manager of FPNA commented: "We are very satisfied on how the workshops went. The participation of our stakeholders is extremely important so that FPNA can finalize a management plan that takes into consideration not only the primary goal of conserving nature and marine life, but also incorporate social and economic aspects. In the name of FPNA, a want to thank all stakeholders for taking the time to meet with us and also for their valuable contribution."
The consultation sessions for the management of Marine Park Aruba that have just concluded will present their results and these will be incorporated in the management plan for the Marine Park Aruba. This will be shared with all stakeholders in the first quarter of 2023 so that they can give their point of view and after this process, FPNA can publish the management plan officially.