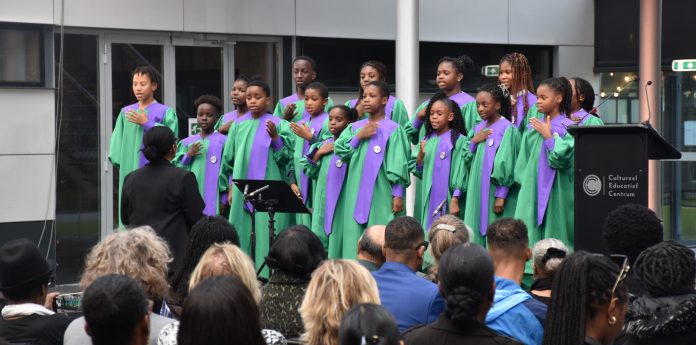 At the Groeiend Monument, last Tuesday 4th of October the annual commemoration took place for the victims of the Bijlmer tragedy. This year marks 30 years since a Boeing 747 cargo from EL AL fell on the flats Groeneveen and Klein-Kruitberg.
The tragedy cost the lives of 43 people, of which 12 were Arubans. Interim director of Arubahuis, Glenda Hernandez laid a wreath in the name of the government and people of Aruba.
Before the laying of the wreath there was a special program in the CEC-gebouw in Bijlmer, the Netherlands. Here, the mayor of Amsterdam, Femke Halsema gave a speech, in which she spoke of the pain that still lives in the habitants of Amsterdam-Zuidoost. She said also that the tragedy made people more confident in themselves. "The tragedy contributed to a generation of people who made Zuidoost a better place", Halsema said, adding that the tragedy at Bijlmer is a "heritage to every Dutch citizen".
In the name of the government of the Netherlands, the State Secretary for Infrastructure, Vivianne Heijnen gave a speech saying that the tragedy "is a scar on the soul of the Netherlands". Even though the plane fell on Amsterdam-Zuidoost, "it could've fallen on any other part of the Netherlands". That's not what destiny decided. It is a tragedy that affected all of us, and as dark as it might be, there is always a ray of light where people find, help and console each other, according to Heijnen.
The speeches were broken by music from the children choir of the primary school Crescendo, and a presentation of violinist Shauntell Baumgard. The musical part was closed by a presentation of ZO! Gospel Choir.
From the CEC-gebouw, a silent march was directed to the Groeiend Monument. Exactly at 4:35 – the time when the plane fell on Bijlmer in 1992 – a minute of silence was observed in remembrance of the victims, followed by the laying of wreaths.
The photographs are courtesy of Arubahuis.