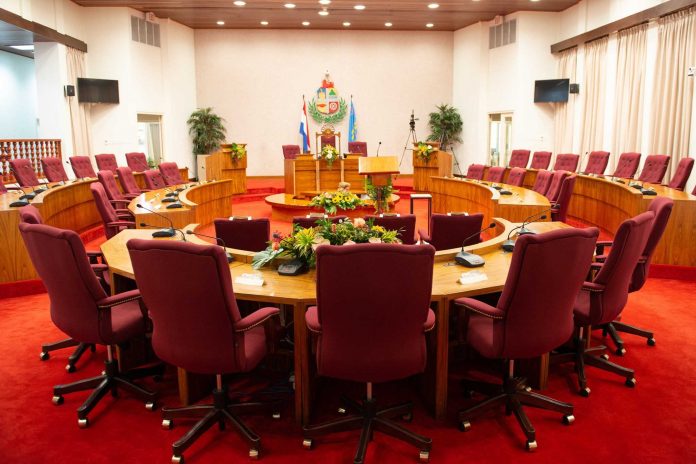 Aruba is due to hold general elections on June 25, 2021. Voters will elect all 21 members of the Estates (Staten), Aruba's unicameral parliament. The election should have taken place in September of 2021, but due to the resignation of the government on March 31st, 2021, before its legal four-year term, a new date had been stipulated according to the regulations as per Aruba's Constitution.
Aruba elects on national level a legislature. The Estates (Staten) consists of 21 members, elected for a four-year term by Open list Party-list proportional representation, meaning that voters have at least some influence on the order in which a party's candidates are elected. Seats are distributed between parties that have gained at least one full quota (1/21, or approximately 4.76% of the vote) using the Hagenbach-Bischoff system (a variant of the D'Hondt method). Before obtaining the status as land/country in the Kingdom of the Netherlands, Aruba participated in elections for its Island Council and for the Aruba constituency of the parliament of the Netherlands Antilles.
Aruba is a constituent country of the Kingdom of the Netherlands. It has full autonomy over internal affairs, while the Dutch government handles foreign and defense policy. Following Aruba's 2017 elections, the governing coalition is led by the social democratic People's Electoral Movement (MEP) party together with political parties POR and RED. The main opposition is the center-right Aruban People's Party (AVP), which holds nine of the 21 seats in the Estates. This year Aruba has a total of 12 parties taking part at the election 2021. They are MEP, AVP, POR, RED, PPA, RAIZ, MAS, UPP, HTC, CURPA, PP and ACCION 21.
Candidate lists
Submission of the candidate lists of political parties took place on May 7, 2021. Due to the Covid-19 situation only the authorized representative and 1 candidate or party leader on the list were allowed to be present at the personal submission that took place at the townhall in Oranjestad. Party lists may contain up to 29 candidates. Qualified electors must be 18 years and older
The following colors for the color print of the lists of candidates on the ballot paper can be used by political parties in the elections of 25 June 2021.These colors are: brown, light blue, dark blue, yellow, green, light gray, dark gray, orange, light orange, red, light pink, magenta, light purple, dark purple, khaki, white, olive green.
Voter Requirements
Voters must be residents of Aruba of at least 18 years of age with Dutch citizenship.
Voting measurements due to Corona
Forced to take measures due to the corona crisis , a switch has been made to partial digitization of the administrative processes of the polling station. For voters, this means that the voting pass has a QR code with voter data. The number of polling stations has been expanded from 64 to 70 in order to maximize the number of voters per polling station at 1,050. In addition to the special polling stations for voters in hospital, prison and nursing homes, a postal polling station has also been added for voters in isolation. Aruba has not had a proxy voting system since 1979
Electoral Debate
The Chamber of Commerce in partnership with the University of Aruba will be organizing 2 debates, the first took place on June 3rd and the second will take place on June 17th, 2021. Leaders of all the participating political parties will be invited to the debates. Topics such as economy, public finance, labor, health, tourism, social affairs, education and justice will be discussed. Each party will be able to bring its plan of action, proposals and solutions based on challenges and opportunities for Aruba.
Campaign
In Aruba it is a custom to have candidates going to visit the people at their houses or holding informative sections all around the island. So, if you see groups of people walking with flags, t-shirt and perhaps some music on, don't panic they are just spreading the word for their candidate to the locals. Most of the candidates also have their own social media page or programs where they try to connect to as many people as possible to get their word out. Also, most parties are recycling old campaign material and distribute these to their followers.
On June 25, 2021 we will find out if we will have a one party or a coalition once again to run our island for the next four-year term.