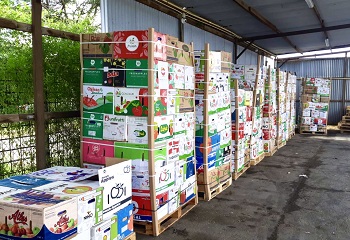 ORANJESTAD- During two recently held inspections, customs agents detected illegal shipments. The first interception was on January 18, 2023, when they intercepted hidden undeclared eggs in apple boxes. To import white eggs, merchants require a special import permit from the Department of Economic Affairs, Commerce, and Industry (DEACI).
The second interception took place on February 1, 2023. Here the customs agents intercepted a seizable number of medications hidden in a fruit container. They include diclofenac, antibiotics, dolocom, sildenafil, ampicillin, fricilicont, diclofec forte, amoxicillin, gripe fin, mambo, and many more. This shipment was not declared and had no import permit from the Inspectorate of Health Aruba (IVA).
In both cases, they confiscated the merchandise and transferred them to the detectives (DRI) for investigation. Customs Aruba has to enforce both fiscal and non-fiscal duties. In these cases, they stopped illegal substances from entering the free market and protected the community's health.