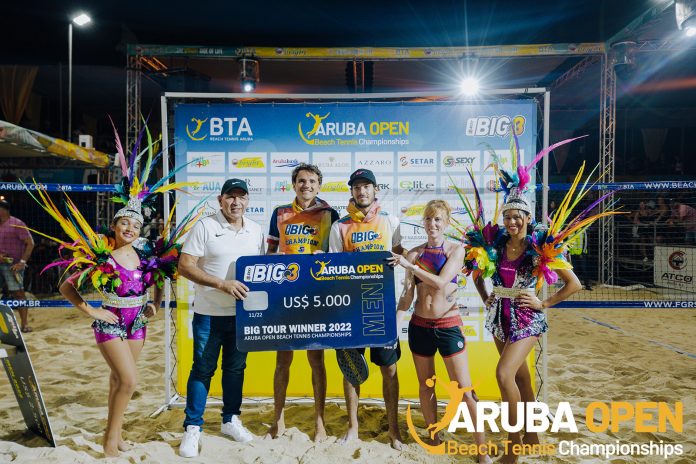 Aruba Beach Tennis Championships ended last Sunday with an epic weekend at Bushiri Beach. The very last match (men's professional finals) of the entire Aruba Beach Tennis Championships ended at 2 a.m. on Monday, November 21. 
Every pro semi-final and final game went to 3 sets. Every single game was an exhilaratingly close match. It could have gone either way.
The stadium at Bushiri Beach was completely full with the most explosive energy and excitement. Spectators of the event stayed until the very end.
Spectacular Steel Drum Show and Carnival dancers entertained the crowd in between games.
The professional players were battling it out for the $60,000 prize pool money.
Results from the pro matches.
Pro women doubles (check & trophy)
1 st Patricia Diaz (VEN) & Rafaella Miller (BRA)
2 nd Sofia Cimatti (ITA) & Nicole Nobile (ITA)
Pro women MVP (check & trophy)
Winner: Nicole Nobile (ITA)
BIG3 (check & hoodie)
Winner: Patricia Diaz (VEN) & Rafaella Miller (BRA)
Pro men doubles (check & trophy)
1st Nicolas Gianotti (FRA) & Mattia Spoto (ITA)
2nd Nikita Burmakin (RUS) & Tomasso Giovannini (ITA)
Pro men MVP (check & trophy)
Winner: Doriano Beccacioli (ITA)
BIG3 (check & hoodie)
Winner: Nicolas Gianotti (FRA) & Mattia Spoto (ITA)