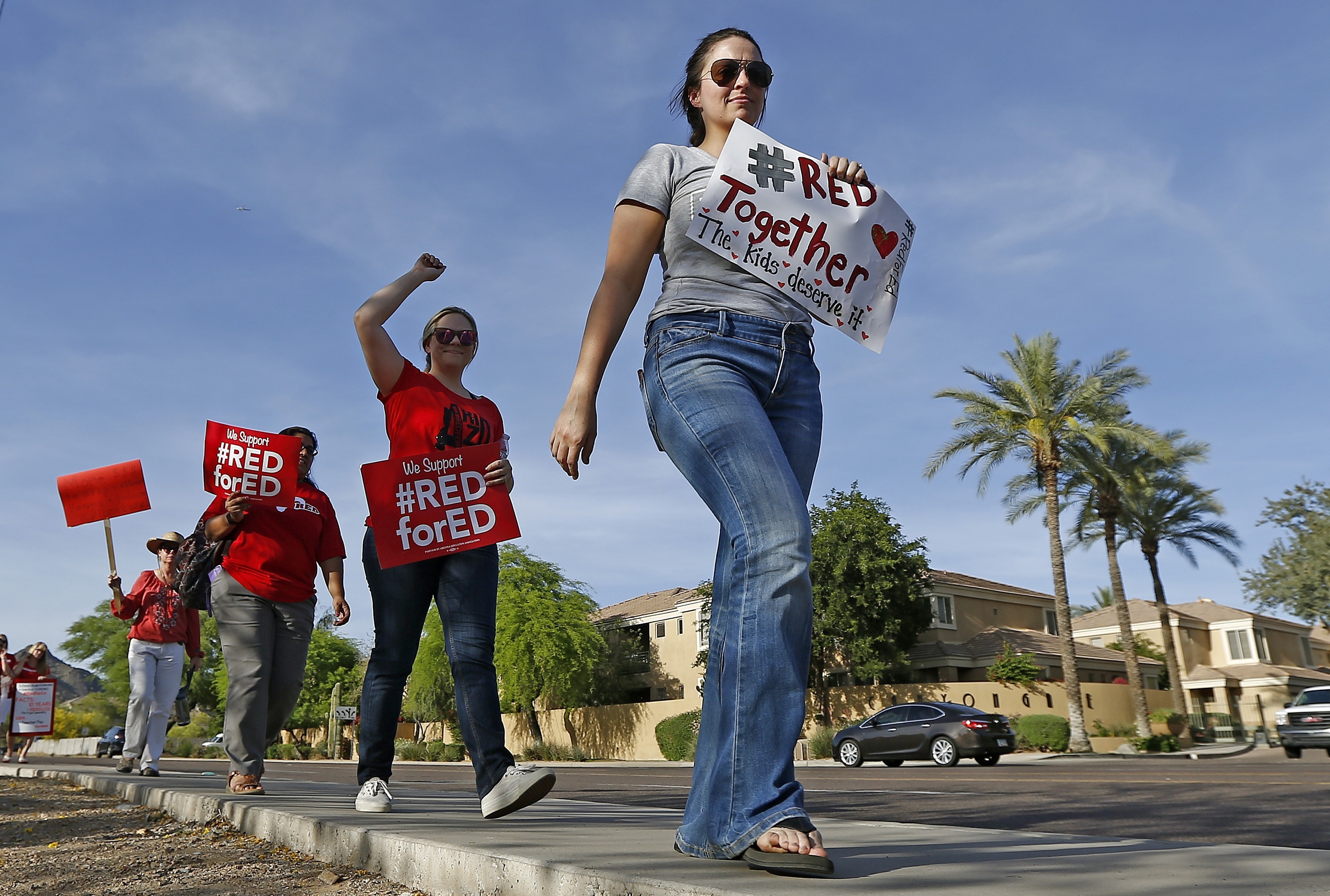 By BOB CHRISTIE
and MELISSA DANIELS,
Associated Press

PHOENIX (AP) — Arizona teachers who have organized to push for big raises and a restoration of school funding are threatening a statewide walkout, following the lead of educators across the country, including Oklahoma where schools have been closed for more than a week. Leaders for a new grassroots group called Arizona Educators United say they could announce a date for action at any time. The group of about 40,000 members says Gov. Doug Ducey and fellow Republican lawmakers who control the Legislature have not responded to requests for negotiations.
Ducey, who is up for re-election, said in a radio interview Tuesday that he would not meet with the protesting teachers because they are politicizing the issue. Instead, he said he would continue meeting with school district officials and lawmakers to pass his budget proposal, which adds some new K-12 cash but not nearly enough to meet the teachers' demands.
"What I've heard from teachers is that they don't want to walk out – they want to solve this problem," he said on KTAR radio. "And I'll tell you the people that are playing politics, they want to walk out."
Outside the station, about 200 to 300 teachers protested. "We're trying to get answers, trying to get respect is what it really boils down to," organizer and teacher Noah Karvelis told KTAR."He refuses to give that to us." Karvelis said earlier that the group sees no choice but to move to walkouts. The likely walkout is part of a wave of teacher rebellions in states led by conservative leaders. In Oklahoma, classes in the state's biggest school districts will be cancelled for an eighth day Wednesday because of protests.
Leaders of Oklahoma's largest teacher's union want a capital gains tax exemption repealed and demanded the governor veto legislation repealing a tax on hotel stays. Republican Gov. Mary Fallin defied them and signed the measure, while urging lawmakers to turn to other business. They already won pay raises of about $6,100, but many educators say their classrooms need more money. Other states, including West Virginia and Kentucky, have seen teacher strikes or protests this year as the education community revolts against years of cuts and lower spending.
Arizona education advocates say the state is spending nearly $1 billion a year less on schools than before the Great Recession. The state's teachers are among the lowest-paid in the nation. The teachers group that sprang up in March is demanding a 20-percent pay hike and annual raises, higher pay for support staff, a restoration of school funding to 2008 levels and an end to new tax cuts until per-pupil funding reaches the national average. The Arizona group has held #RedforEd protests at the state Capitol and statewide for weeks and plans
"walk-ins" for at least 1,000 schools across the state on Wednesday. Karvelis said 30,000 educators have ratified the group's demand list and they are close to getting enough teachers to approve a statewide walkout.
"It looks like we're going to hit those numbers shortly here," he said before heading to school early Tuesday. "In the meantime our governor and our Legislature have not responded to our demands, our request for meetings. So it seems like the only language they understand is escalated action here." Ducey is sticking with his plan to slowly boost school funding, promising a 1-percent teacher raise and $100 million in funding for districts this year as a start to restoring nearly $400 million in cuts.
Republican House Speaker J.D. Mesnard said Tuesday that the Legislature remains focused on
boosting school funding but warned that a strike could end up being "a bit of a mutual self-destruction scenario." "I think everybody is supportive of finding ways to get more money to schools, more money to the classroom, more money to teacher pay," he said. "However, if you strike, that ratchets thing up to a whole other level with consequences. That impacts people all over the state and you could see some or many turn against that type of maneuver."
Democratic Rep. Rebecca Rios, the minority leader, said she doesn't fault the educators for wanting to walk out since they've been pushed to a "breaking point." She called Ducey's proposed 1 percent raise "insulting." But the likelihood for anything greater is small, she said. "If you want a different outcome, you have got to change the players at the table," she said.
Derek Harris, a co-founder of Arizona Educators United, took to Facebook Live on Monday night to share the news that a date was about to be set for a long-term walkout.
"Do not wait anymore," Harris said. "The time is coming, we need to make this happen and that mean you've got to get things in place." He also urged teachers to contact churches or day cares who could handle child care needs. "If you don't know what they're going to eat for lunch that day, you're not ready," he said. "If you think the superintendent is going to come to your school and start handing out pink slips that day, you're not ready." According to the federal Bureau of Labor Statistics, Arizona elementary school teachers earned a median wage of $43,280 in 2017 and high school teachers $46,470, the third and sixth lowest in the nation, respectively. Adjusted for local cost of living, federal figures show elementary teachers actually rank 49th in earnings and high school teachers 48th.