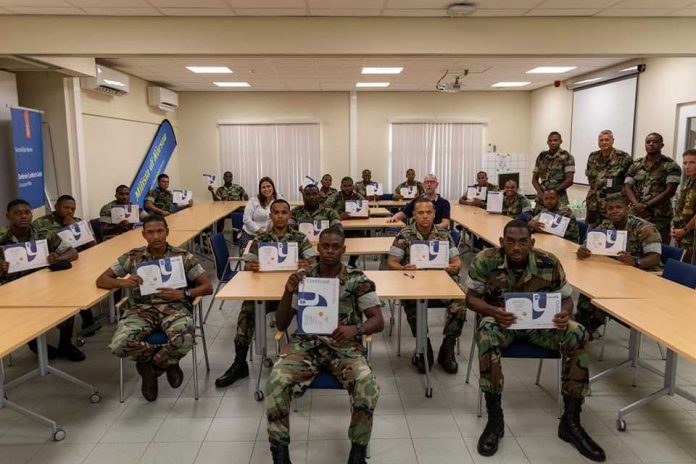 Eight soldiers of the ARUMIL received the Loyalty Medal from C-MSKSAV.
The medal represents the way in which they have served the Royal Navy and the country of Aruba in particular during the period of six years. The ceremony took place in a select group including the direct line managers together with the employees and the local staff. At the end of the ceremony, Lieutenant R.F. Kelly was promoted to Captain. It was a total surprise to him when his wife walked up to witness this.
The commander briefly reflected on his career and indicated that he was very satisfied with the commitment he has shown in recent years. Despite the austerity of the ceremony, there were happy and contented faces. Especially nowadays it is important to reflect on successes and to celebrate them appropriately according to the Royal Navy.
Elementary Military training completed
SAVANETA — A total of 28 soldiers from the Curaçao and Aruban Militias completed the Elementary Military Vocational Training-2019. The last module was Guarding & Security. They received their diploma. With this, they completed their initial training at the Caribbean Training Center at the Suffisant Naval Barracks in Curacao. They are now fully operational deployable.
Compared to previous courses, this specific training was characterized by an interruption in which the militiamen were deployed for severity. The militiamen supported the KPC in enforcing the COVID-19 measures. The Aruban students were deployed in Aruba during that period. After the interruptions by COVID, the Caribbean soldiers (9 in Aruba and 19 in Curaçao) completed the training successfully.