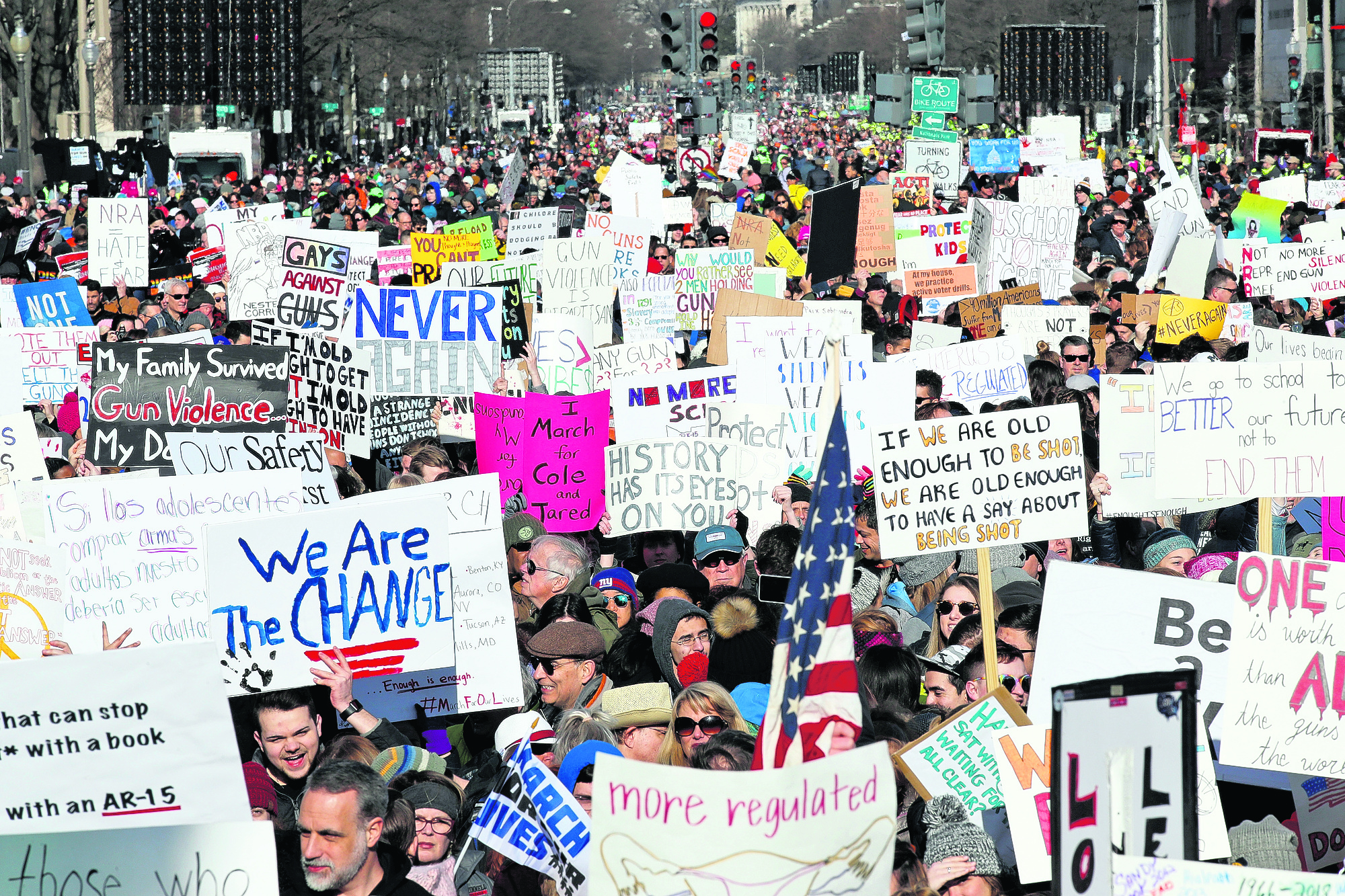 By MARTHA IRVINE
AP National Writer
Charlie Goodman looked at the massive crowd around him, the largest youth-led protest in Washington since the Vietnam War era. He listened to people speak about toughening gun laws. They included some of his peers at the Florida high school who've sparked this movement, as well as the 9-year-old granddaughter of the Rev. Martin Luther King. When she spoke, he was moved to tears.
"This is truly a revolution," said Goodman, a sophomore at Marjory Stoneman Douglas High School in Parkland, Florida, where 17 people were gunned down last month. "We can really change the world." The marches unified hundreds of thousands of people in cities across the country and have galvanized this movement, he and others say. Now they are vowing to get young voters registered and send a message in upcoming elections.
"We have a lot of people who are inspired," said Kobey Lofton, a student from Chicago's South Side who also traveled overnight to Washington on Friday with 12 busloads of fellow students and adults. Before the march, Lofton and his fellow Peace Warriors at North Lawndale College Prep High School had already met with the Florida students — young people from different worlds, but both impacted by gun violence.
Now they and other students across the country are planning voter registration drives through the fall. Voter registration groups, including Rock the Vote, Voto Latino and HeadCount, a nonpartisan group that usually focuses on registering people at concerts and music festivals, also helped mobilize teams at Saturday's marches in 30 U.S. cities and have created a registration tool kit for high school students.
"I've never felt the energy that I felt," HeadCount spokesman Aaron Ghitelman said of the registration training that preceded the march in Washington. In a matter of hours, he said the groups registered nearly 5,000 people, many of them millennials. "More young people are realizing that we can have a voice and we can have a seat at the table," he said.
"But people realize that you have to fight for that seat at the table."
"We have to force them to do something," agreed Lofton, who was referring to elected officials, including President Donald Trump. The White House issued a statement about the student-led march and also pointed to the president's support for the Stop School Violence Act, which authorized grants to schools to bolster security and attempts to improve background checks. But Cameron Kasky, a student leader at Marjory Stoneman Douglas High School, says the current laws and legislation don't go far enough.
The students, he said, are demanding an assault weapons ban, prohibition of sales of high-capacity magazines and universal background checks. But Kasky said this won't happen if his peers across the nation don't get more involved. "The youth of America needs to step up and start voting. (You) see the statistics. It's an embarrassing turnout," Kasky said Sunday on the CBS program "Face the Nation." Compared with 2012, voter turnout for millennials, those ages 18 to 35, increased to just below 50 percent in the last presidential election, according to the Pew Research Center and U.S. Census data.
But that turnout still lags behind other generations. Still, Dianne Daley, a 60-year-old corporate events planner from Long Beach, California, said the students have done a lot to inspire their older peers. "Maybe that's what it's going to take — children leading us," Daley said. She comes from a family of educators and marched Saturday in her hometown with three generations of her family, including her 87- year-old father, an Air Force veteran.
Some students from "the silent minority" still said they felt excluded. Kyle Kashuv, another student at the Florida school, also appeared on "Face the Nation" to voice his support for the 2nd Amendment and for enforcement of existing gun laws. He expressed his disappointment that he was not invited to speak at Saturday's march and placed blame for the deadly
shooting at his school on local law enforcement and the FBI.
"This kid was flagged," Kashuv said of accused shooter Nikolas Cruz and reports to law enforcement before the shooting that he posed a threat. Rick Santorum, a former Republican Senator from Pennsylvania and now a CNN commentator, suggested Sunday that students shouldn't look to others to solve their problem. "Do something about maybe taking CPR classes or trying to deal with situations that when there is a violent shooter that you
can actually respond to that," Santorum said on CNN's "State of the Union."
However, Sen. Mark Warner, a Virginia Democrat who has previously voted against stricter laws on high- capacity magazines and semi-automatic weapons, said the student rallies will likely make a difference as Congress takes on the issue again. Some of the Florida students said they realize that compromise will be necessary. But, even as he rested back in Florida on Sunday, Goodman said the marches are only the beginning. He and his peers will be regrouping this week on their spring break, he said.
"I considered myself more politically aware than politically active. I was very intrigued with the (last) election," he said. But something has changed in him. "Now this is something that I must do," he said.