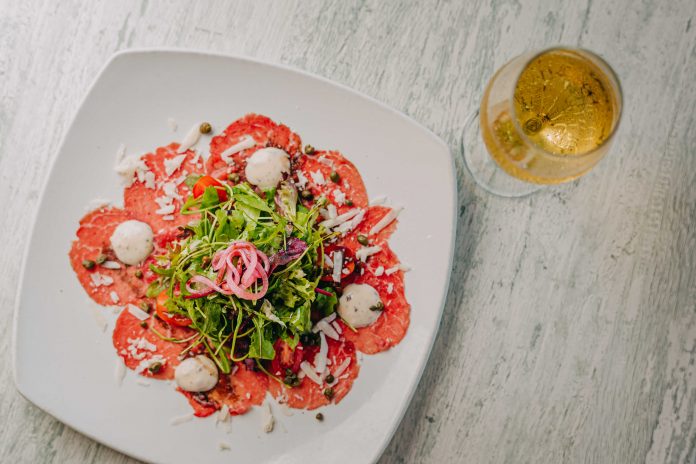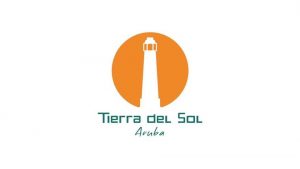 Imagine dining with a panoramic view surrounded by the golf's greens, the island's rugged north coast and the mesmerizing blue ocean in a relax dining experience, delighted in fresh cuisine with Caribbean, European and American flavors. Inspired by nature the restaurant is letting in the outside while the menu reflects what guests are looking for nowadays: variation, adults & younger diners choices, great prices with a friendly service. That is the great thing about the re-opened casually elegant restaurant at Tierra del Sol: it is for everyone and every occasion!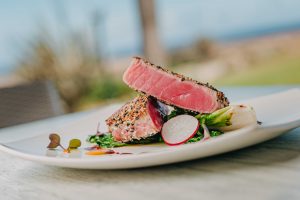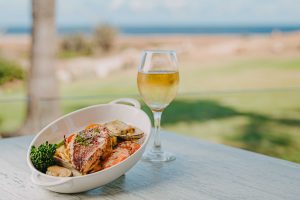 The Restaurant at Tierra del Sol transformed into a place of light, fresh looks, elegant though laid-back setting and the choice between inside and outside dining. Those two areas flow into each other in a natural way. Families with children dine on the big tables, some business people take a quick bite inside and a group of golfers enjoy a meal after their game. It is a fantastic concept that is accessible for all without losing its essence: great food in a stylish interior design overlooking the spectacular view.
Lunch with unmatched views
Guests praise Tierra del Sol restaurant for the magnificent views making it a popular lunch spot as well as a great after-golf lunch experience. Locals and visitors have been coming for years to Tierra del Sol to unwind and let go in this elegant yet laid-back setting. Savoring some handhelds delicacies such as Crispy Chicken Caesar Wrap, Fish or Steak Tacos or a Classic Burger are just a few to mention and for those Pizza and Pasta lover's they have a great selection of dishes as well.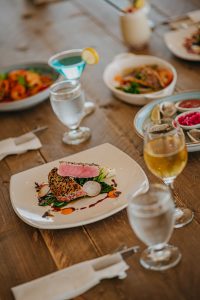 Divine Dining
Tune in for a culinary experience that will give dining another perspective. We are not talking about the standard 3-course menu, but about a journey through taste-land. The Restaurant at Tierra del Sol invites you to taste as many items as you wish from their extensive dining menu.
Fresh Oysters, Escargots, Flash seared Tuna Tataki, Beef Carpaccio, Cheese and Charcuterie Board or TDS Wedge Salad are only some of the welcoming dishes. For the main courses you can enjoy the Fresh Catch of the day, Caribbean Seafood, Filet Mignon, Lobster Thermidor, Korean Pork Chop, Vegan Bowl or Fettuccini Truffle Carbonara among others. Top it off with a sweet surrender of a caramel flan, New York Cheesecake or Chocolate Mousse are one of the choices.
The friendly staff is looking forward in welcoming you!
Indulge into this culinary discovery at the most splendid scenery of our One Happy Island.
TIERRA DEL SOL RESTAURANT
https://www.tierradelsol.com/dining/
Phone: (+297) 586-7800 Ext. 231
Email: restaurant@tierradelsol.com
Monday – Sunday: 11:00am — 10:00pm