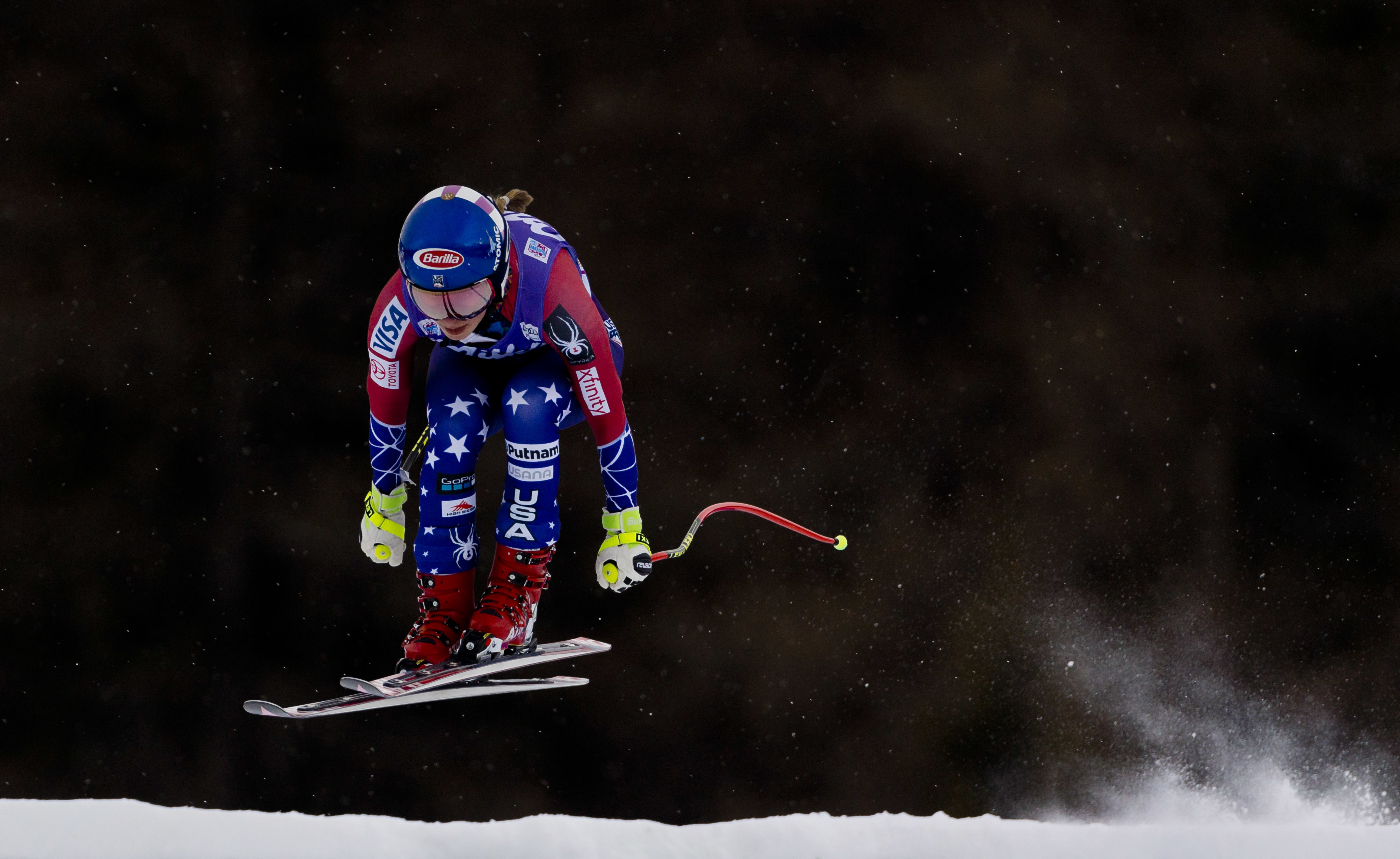 By GRAHAM DUNBAR
AP Sports Writer
GENEVA (AP) — Alpine skiing is fast and dangerous and offers must-see races at the Pyeongchang Games, which open Friday and close Feb. 25. The downhills — ski racing's equivalent to track and field's 100-meter dash — and American star Mikaela Shiffrin's slalom title defense are all scheduled in prime time for U.S. TV audiences.
A primer on a sport that's been part of the Winter Olympics since 1936:
DOWNHILL (men Sunday; women Feb. 21)
A simple concept: Find the fastest route down the mountain. The elite racers cover the men's course of 1 ¾ miles (2.86 kilometers) — the women's course is a little shorter — in about 1 minute, 40 seconds, while dropping 2,700 feet (825 meters) in altitude.
That's about the height of a 200-story building. Or nearly three Eiffel Towers.
Downhill should involve "technique, courage, speed, risk, physical condition and judgment," according to international skiing rules. For safety reasons, entrants must do at least one full training run before the actual event.
The Olympic speed courses at Jeongseon were raced just once on each World Cup circuit.
Two years ago, Kjetil Jansrud of Norway averaged more than 60 mph (100 kph) while winning by 0.20 seconds — a solid winning margin.
In the women's test race last year, Sofia Goggia of Italy beat Lindsey Vonn of the U.S. on a slightly different course setting.
Vonn will be favored to regain the title she won in 2010 and couldn't defend four years ago because of knee surgery. The men's downhill frequently serves up a surprise, but world champion Beat Feuz of Switzerland and 2010 silver medalist Aksel Lund Svindal of Norway will be popular picks.
SUPER-G (men Feb. 15; women Feb. 17)
The super-giant slalom, also known as super-G, is the second speed event. It is raced on a slightly shorter, twistier course that is more unpredictable than the downhill.
The skiers never get a chance to practice on the exact set of gates designed by a national team coach who is chosen by random lottery. Instead, skiers only inspect the course beforehand; in the 2014 Olympic women's super-G , seven of the first eight racers failed to finish.
Norway has won the men's gold four times in a row, including Svindal in 2010 and Jansrud in 2014. Vonn is one of six women who won a World Cup super-G this season.
GIANT SLALOM (men Feb. 18; women Feb. 12)
Giant slalom, also called GS, requires sweeping turns through gates more than 30 feet (at least 10 meters) apart. Times from two runs are combined.
The Olympic race will be the first top-tier giant slalom at Yongpyong since March 2006, when a young American named Ted Ligety earned his first World Cup victory. That was before Ligety became "Mr. GS" with 24 World Cup wins, plus the 2014 Olympic gold and three world championship titles.
Before Ligety dominated from 2011-15, men's GS was balanced between experts in slalom and downhill. Not now. In an era of more specialized training, none of today's GS contenders even competes in downhill.
The men's race could be another duel between Marcel Hirscher of Austria and Henrik Kristofferen of Norway, while Shiffrin and world champion Tessa Worley of France are the women's favorites.
SLALOM (men Feb. 22; women Feb. 14)
In the slalom, athletes use shorter skis than in other events to weave through about 60 close-set gates in less than a minute. The 30 fastest racers start in reverse order for the second run.
Slalom needs the iciest racing surface, and can run in falling snow and fog that would make the downhill or super-G speed races unsafe.
Assuming they're healthy, Shiffrin and Hirscher will be overwhelming favorites for gold.
Course setters are picked randomly and, as luck would have it, Hirscher's own coach, Mike Pircher, was selected for the Olympic slalom's first run. Shiffrin is trying to become the first person to win consecutive slalom titles.
COMBINED (men Feb. 13; women Feb. 23)
Enjoy Alpine combined while you can. This might be the Olympic swan song for an event that combines the times from one downhill run and one slalom.
Traditionalists love the mix of skills, but racers are so specialized now that those good at one discipline tend not to be competitive at the other.
The last two men's world champions — Hirscher and Luca Aerni of Switzerland — were 30th fastest in downhill, so got first use of a clean slalom course to.
Jansrud and Alexis Pinturault of France should contend. Swiss slalom specialist Wendy Holdener is world champion in an event that could be the tightest race between Shiffrin and Vonn.
TEAM EVENT (Feb. 24)
Making its Olympic debut, the Alpine team event puts parallel racing in the Olympics.
It is unlike any of the other 10 medal races, which are all individual events.
This one has a 16-nation bracket; each team has two men and two women. There are a total of four 1-on-1 runs down a giant slalom course; each should take about 25 seconds. If after two men's races and two women's races, the countries are at 2-all, the tiebreaker is the best combined time of each country's fastest man and woman.
Scheduled for the last day of Alpine competition, on the Yongpyong hill used for slalom and giant slalom.