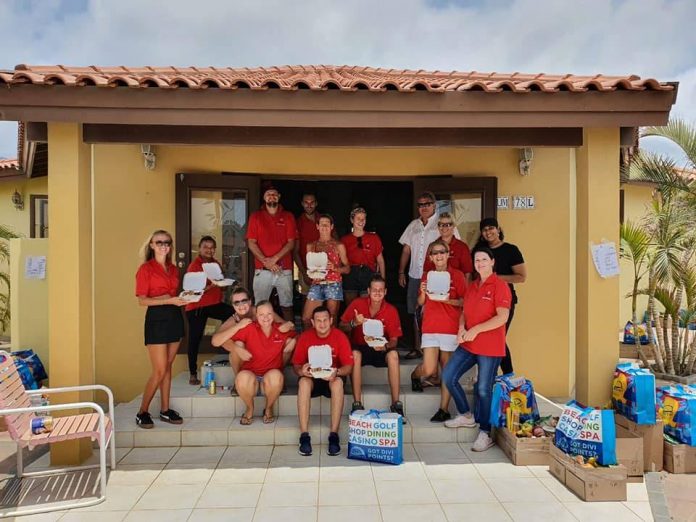 "My name is Annelot Muijres and I live on Aruba with my family. I got the idea to start Ajudo na Aruba after many stories surfaced of people not having any food to eat, including families with newborn babies." This is the story behind the volunteer organization Ajudo na Aruba in a nutshell.
The foundation's name means Help Aruba and that is exactly what they are doing on our island that has been and is affected enormously by the COVID-19 crisis. The founder of Ajudo na Aruba started preparing home-cooked meals from her home, but she soon realized this was not enough. Therefore she started this project to be able to help more families in need, not only providing meals or groceries, but also basic necessities like diapers, baby formula, soap etc.
​"We are doing this all with love and the help of our fantastic volunteers. We thank you all from the bottom of our hearts. The project depends on the tremendous effort of their volunteers as they make this project a success. They work long days and take precious time away from their families to help Ajudo na Aruba reach out. If you would like to join their fantastic team, please contact the organization through the contact page on their website https://www.ajudonaaruba.com/contact and they will reach out to you.
Donate
Ajudo na Aruba is run completely by donations, whether it's food or money (to buy food), diapers, formula or even toys and clothing, every single item donated is valuable to them. If you would like to join this good cause and support Aruba, feel free to donate or contact the organization if you require more information. ALL of the donations are used to help families in need. You are also welcome to stop by at Cumana 78L. They are there every Saturday and Sunday from 9 am till noon. More information: https://www.ajudonaaruba.com/ or Facebook Ajudo na Aruba #covid19.