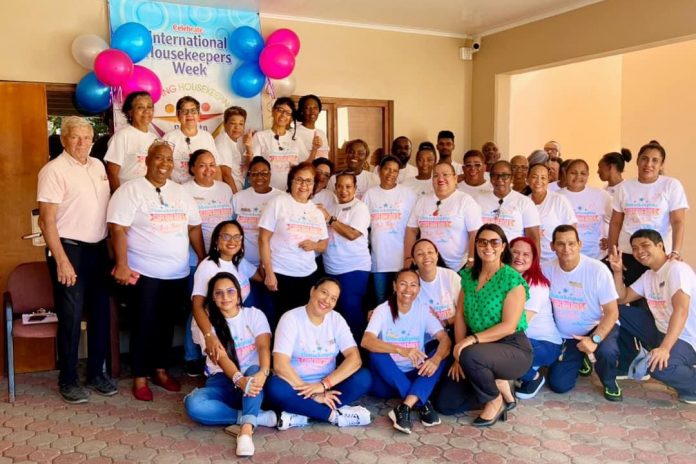 PALM BEACH – Ingrid Todd easily represents what is best about the Playa Linda Beach Resort. She possesses the ability to always surprise you and is downright amazing. On June 1st, she marks an impressive 40 years on the job, having started out as a roomkeeper, moving through milestones as supervisor and on to assistant executive housekeeper, and now, for the last ten years, fulfilling the key role of executive housekeeper.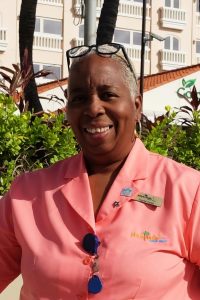 Over the span of her long career, she has worked with eight different general managers and has seen the Playa Linda grow in both size and appeal, meeting each transition with seeming ease, armed with a powerful amount of patience, flexibility and skill as well as an ever-present smile.
Equal parts caring colleague and highly effective manager, her impact and what she has accomplished during her four decades at the Playa Linda Beach Resort is undeniable. Playa Linda often receives rave reviews with specific mention of the Resort's remarkable level of cleanliness and of outstanding service by housekeepers and the Housekeeping Department. In simultaneously meeting guests' high standards and in providing the essential support to all the Resort's housekeepers, she attributes each success to teamwork, within her department and with fellow senior staff members as well as Board. "I am thankful for every day on the job and for the people with whom I work. I am especially proud of my team. Within the Housekeeping Department we have a lot of employees who have more than 20 years of experience."
As executive housekeeper, Ingrid leads Playa Linda's largest and most diverse department, and has earned the well-deserved respect and affection of fellow staff members and colleagues.
"Ingrid embodies dedication, and you can always count on for her knowledge and expertise," remarks Operations Director Sulaika Kelly. "She is truly a Playa Linda ambassador."
Playa Linda General Manager Peter van Grinsven describes Ingrid as a role model. "She is part of the reason the Playa Linda is so popular. She has been invaluable in maintaining the resort's ISO-14001 certification, and helping us exceed our members' and guests' expectations," he comments. "She was been there for every step it took to bring the Playa Linda to where it is today, as one of the most desirable places to stay in Aruba."
Among the many accolades Ingrid can expect in marking her work anniversary, she can also look forward to sharing these moments with family members. As well as being a successful professional and an important part of the Playa Linda family, Ingrid is the matriarch of her own family as mother to four daughters. She is also a loving grandmother to six grandchildren and one great granddaughter.
Ingrid looks back on her 40 years at the Playa Linda with fondness, expressing love for colleagues as well as Resort guests. "I am happy and grateful, beyond words. It has been a long road and time passes quickly, but it has been a wonderful journey. Working at the Playa Linda has brought many wonderful people into my life, and the resort has become my own beloved 'home away from home'."