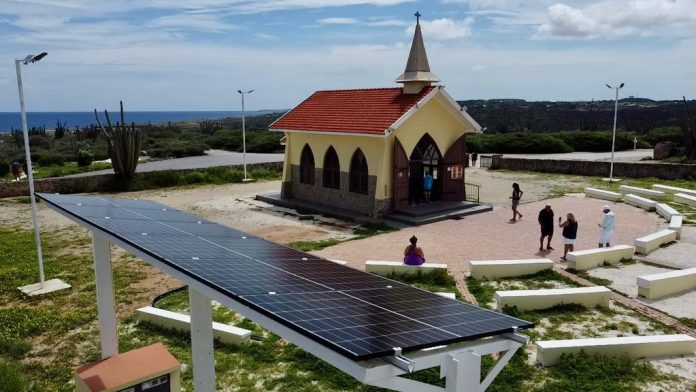 (Oranjestad)—The Alto Vista Chapel in Aruba has recently undergone a beautiful upgrade with the installation of a solar panel system with battery storage, allowing this famous chapel to shine at night in a warm and welcoming light.
The renowned Alto Vista Chapel was built in 1952, but the location has a much longer history: it was once the site of Aruba's first church. The chapel holds significant historical and cultural value for the island and is perched on a hilltop overlooking the North Coast. The chapel is a tangible testament to Aruba's rich Catholic heritage. Today, the chapel is not only a cherished landmark but also a beloved destination for countless tourists. Surrounded by the serene beauty of cacti and breathtaking panoramic views of the coastline, it offers a peaceful sanctuary for both locals and visitors.
Michael Geerman, Project Leader for the St. Anna Parish, under which the Alto Vista Chapel falls, recently teamed up with Mister Green to implement the addition of solar panels to the chapel. "On behalf of the Priest and the Parish, we are very pleased with Mister Green/PowerHouse, and we are proud of this project," said Michael Geerman. This new installation is a milestone for the chapel, located in a remote area where establishing an electricity connection would be costly and time-consuming. The solar panel installation with battery storage proved to be the perfect solution to power the Alto Vista Chapel.
This small sanctuary is often illuminated by a sea of candles, contributing to the atmospheric ambiance. Thanks to the new lighting, visitors can now more easily enjoy the chapel in the evenings. The Alto Vista Chapel warmly invites everyone, whether religious or not, to experience the serene atmosphere and attend the weekly services.
"It is an honor that the St. Anna Parish has chosen our company, and we look back with great pleasure on this unique project," said Coen van Daal, founder of Mister Green. The addition of solar panels to the Alto Vista Chapel marks a significant step in the preservation of this historic sanctuary and enhances the visitor experience. The chapel's light will now attract even more people and continue to be a symbol of Aruba's rich history and spiritual significance.
For more information and visiting opportunities, you can contact the office of the St. Anna Parish, to which the Alto Vista Chapel belongs, at +297 587 1409.