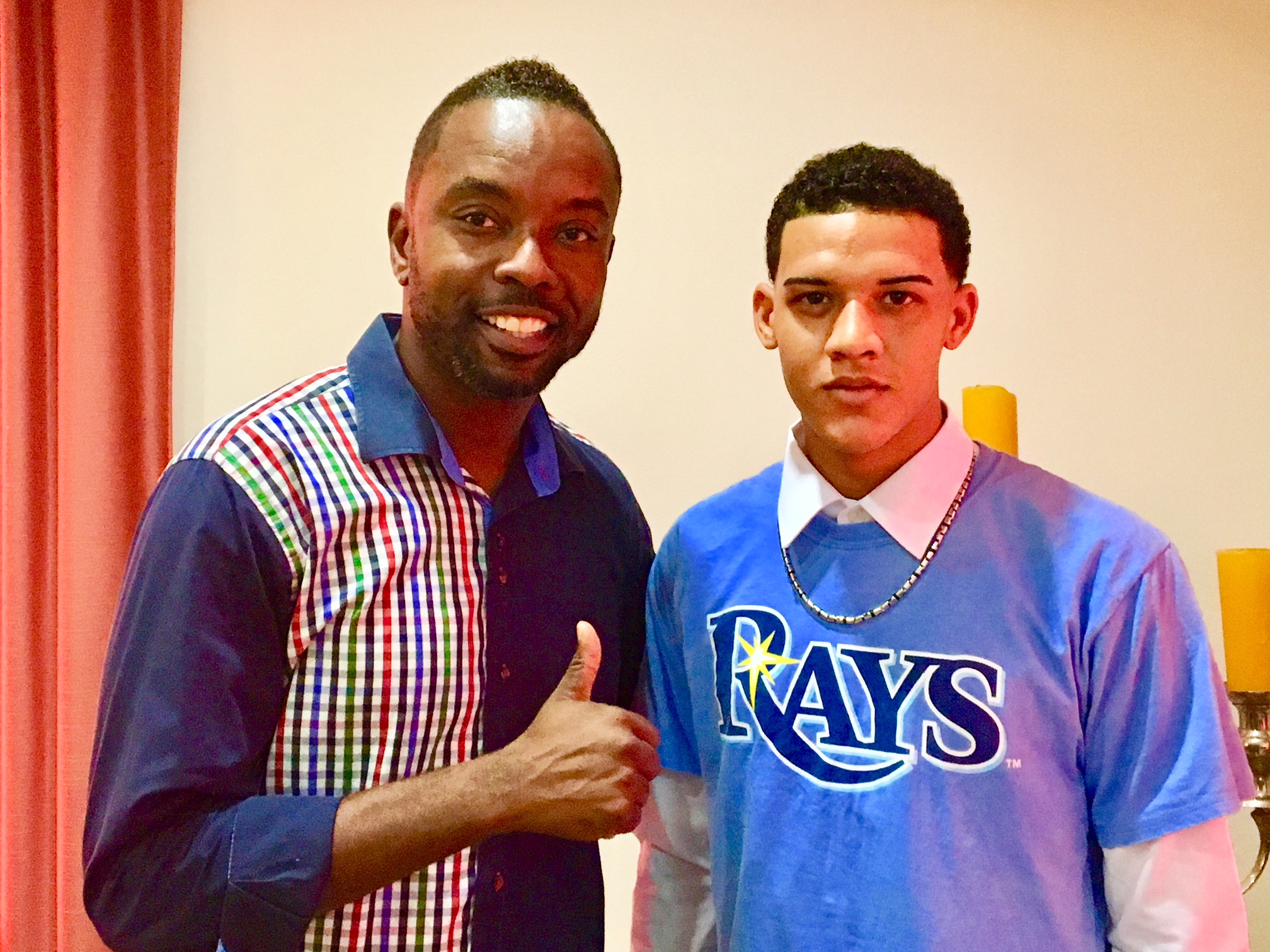 ORANJESTAD – Another dream has just come true. The Tampa Bay Rays signed catcher Nigel Calmes to a seven-year contract. Calmes has been chasing his personal `field of dreams' for the last three years. The road has been long and winding to the point Calmes was wondering if he'd ever make it. But with the support of his father Rudolph Calmes, Nigel worked even harder to pursue his dream.

With an invitation from his cousin Shaquille Calmes to play at the baseball field at Weg Seroe Preto in San Nicolas. Nigel became hooked on baseball. Nigel Calmes began his journey playing with the Little League for the Aruba Giants organization. His Little League team Benjamin Security Services under the guidance of Benjamin Francees.
With Nigel behind the plate, the team became a powerhouse winning several Little League championships During these years he also was part of several teams representing Aruba in international competition, where Calmes' play was outstanding and was the best backstop in the tournament. At the age of fifteen, Nigel left for Curaçao with the sole purpose of becoming a professional ballplayer.
He moved in with his grandmother Mrs. Irene Nassy, and at once began playing with team Trai Seru with manager Lando Chirino. He would then go on to be become the star catcher for the Liga Pairba team from Curacao. On the island of Curaçao, he prepared himself for two years to become a pro. From there Nigel went to a baseball academy in the Dominican Republic where he fell short of his goals of a Major League Baseball contract. He learned quite bit and realized what he needed to strengthen his game.
In the recent past, the Baltimore Orioles followed Nigel as well during several tryouts but apparently, they were not convinced about his skills. For young baseball prospects July 2nd is considered D-Day. Pro teams can sign any player that is 16-years of age on that day to a contract, but after that the chances are slim that you will ever get big league
contract. Knowing this, Nigel never gave and with and the constant support of his father he kept training.
But eventually, at the age of eighteen, he had another chance when the High Profile Player tour showcase from Venezuela landed on Aruba in November. He grabbed this (last) straw and left a very good impression. Even this good, the Rays signed him. His arm caught the eye of several scouts. Due to the sociopolitical climate in en Venezuela has 30 professional baseball organizations prefer to come to give tryouts to the best prospects from Venezuela residing in Aruba.
Thanks to the quick thinking of Calmes' father Rudolph, Nigel took advantage of the Venezuela Showcase last December 1st, 2017. He made an impression with the scouts from the Tampa Bay Rays who later asked for a private workout on the following day.
Wednesday, December 27th, 2017 surrounded by family and friends and Tampa Bay Rays scout Chairon Isenia who came from Curacao fo the official signing. It is not known yet where Nigel will start his professional career, but it is very likely he will start in the DSL
or GCL.