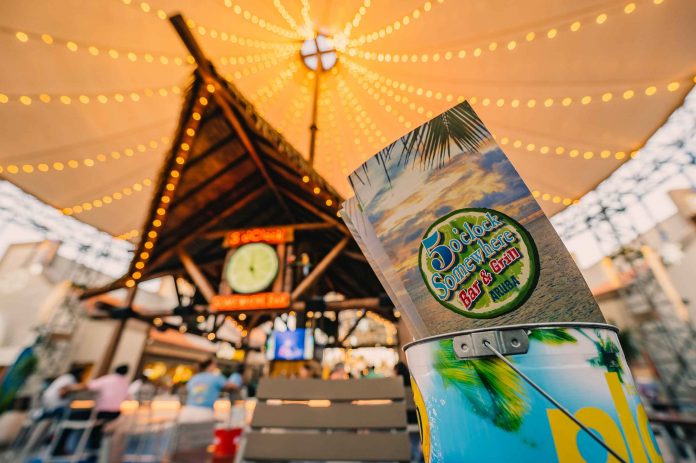 5 O'Clock Somewhere Bar & Grill is celebrating its 1st anniversary. We still remember last year's Grand Opening of the first 5 O'Clock Bar & Grill by Margaritaville in the Caribbean, a big milestone. 2020 has been a challenging year to say the least for all of us, but we are grateful how the local community embraced 5 O'Clock Bar & Grill, located in the heart of the Renaissance Marketplace.
This weekend will be a weekend of celebration to rejoice 5 O'Clock's 1st anniversary. You are invited to join us this weekend for lots of fun while respecting all current protocols to make sure we offer a safe environment to all. Even though we are in the middle of a pandemic, we can't ignore this milestone, and want to say Thank You to all who supported and stood by us.
Friday, December 4 till Sunday, December 6, starting at noon, 5 O'Clock invites you to a weekend full of fun. Three days filled with surprises, specials and prizes. Our Happy Hour will be extended starting at 5PM through 10PM with specials on Balashi and Chill Draft Beer, $5 specials on Margarita and Cocktails, as well as on our Mojitos in 5 O'Clock collectable Booze Blenders for only $12. Win great prizes when you pop your balloon. Beat our house champion at the corn hole and ring games and win free Land Shark Beer. Join us on Sunday for our famous Domino tournament from 4-7PM, make sure you register in advance. A live DJ will set the ambiance for out 1st anniversary.
The invitation is yours to join us at 5 O'Clock Somewhere Bar & Grill located in the heart of the Renaissance Marketplace. We would like to remind everyone to practice physical distancing and to follow all rules and regulations recommended by the local department of health. Follow us on Facebook; https://www.facebook.com/5somewherearuba to stay up to date.