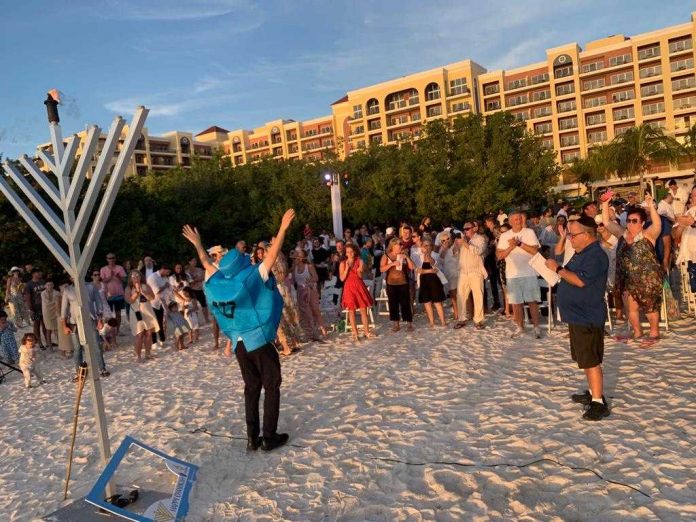 Hanukkah Celebration comes as culmination of week long holiday celebrations. To celebrate the 2021 Hanukkah season, Chabad Aruba will be having a Car Menorah Parade departing from the California lighthouse traveling to the Hyatt Regency Aruba culminating in a grand menorah lighting and celebration. 
"It's been an incredibly joyful Chanukah in Aruba so far with celebrations organized by Chabad Aruba and hosted by resorts around the island." said Rabbi Ahron Blasberg, director of Chabad Aruba.
On Sunday the first candle was lit joyously on the beachfront of the Ritz-Carlton Aruba with many guests and locals in attendance. The atmosphere was palpable as the candle was lit with the sun setting in the background and the Chanukah songs playing.
Monday brought the celebration to the Riu Palace and Tuesday to Eagle Beach hosted by the La Cabana Beach Resort. On Wednesday the menorah was lit at the Playa Linda Beach Resort and Thursday at the Marriott Ocean Club.
The public Hanukkah celebrations are about sharing the light and joy with the broader community and the entire island.
Hanukkah emphasizes that each and every individual has the unique power to illuminate the entire world. It was to encourage this profound idea that the Rebbe, Rabbi Menachem M. Schneerson, of righteous memory, launched the Hanukkah awareness campaign in 1973, of which Aruba's public Hanukkah activities are a part of. The menorah faces the street, the Rebbe notes, and so bypassers immediately feel "the effect of the light, which illuminates the outside and the environment." In the half-century since, the Rebbe's campaign has brought Hanukkah into the mainstream and altered awareness and practice of the festival, returning what some mistakenly dismissed as a minor holiday to its roots as a public proclamation of the triumph of freedom over oppression and a mainstay of Jewish cultural and religious life.
Chabad-Lubavitch's annual Hanukkah campaign has distributed millions of menorahs to Jews around the world, and erected thousands of public menorahs to share its universal message of light over darkness with humanity at large. This year's Hanukkah campaign will be one of unprecedented light and joy, seeing Chabad reach 8 million Jews in more than 100 countries. Even as crowds begin to gather again, the Hanukkah parades that ensured safe events last year, will go on, and this year more than 6,500 Hanukkah menorah-topped cars will hit the road in Chabad menorah parades to share the Hanukkah message of hope and joy around the globe.
To join the festivities on Sunday evening please visit www.jewisharuba.com/Chanukah or just show up at the Hyatt parking lot at 7pm.
Wishing everyone a happy Chanukah!