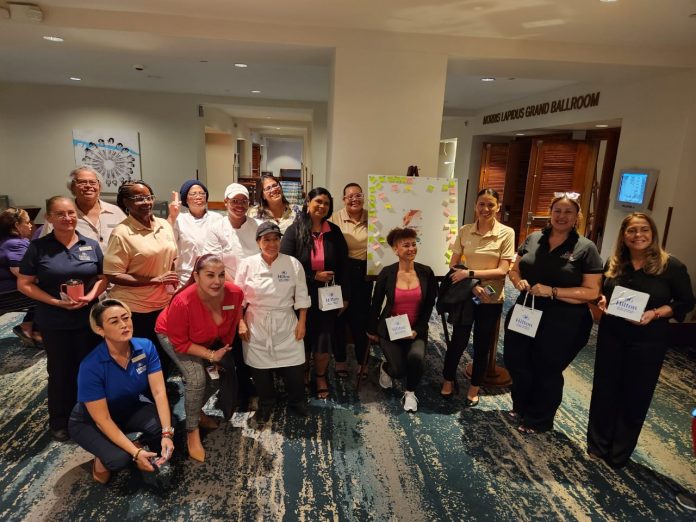 A recent invitation to World Mental Health Awareness Day, alerted all Team Members at the resort of the availability of support, the opportunity to learn about mental health, and have questions and concerns answered, by a team of professionals in the field.
The invitation included team members who are parents, single individuals, grandparents, married couples, and those in relationships, or team members in need of advice on how to improve their individual mental resilience.
World Mental Health Day, observed worldwide on October 10th, inspired the resort to organize ten workshops covering the following topics: Mental Health & Aging, Mental Health & Addiction, Mental Health & Parenting, Children's/Teens Mental Health, Healthy Masculinity, Women's Mental Health, Mental Health & Stress as well as Emotional First Aid. Besides these workshops the team members also had to opportunity to experience some massage and yoga sessions.
All workshops were conducted by professionals including social workers, psychologists and representative of various foundations such as Centro di Desaroyo Hende Muhe, Tienda di Educacion, Heart Centered Leadership Foundation and Fundacion hende homber.
"We too view Mental Health as a Universal Human Right," says Glenn Farro, Director of HR, "and we feel that raising awareness of the importance of mental health, contributes to the resilience of our team members. This year's theme highlights the fact that mental health is fundamental, and every person should have access to the highest standard of mental health care and protection from mental health risks in this community."
"At the Hilton Aruba," Eugenille de Marchena, HR Manager, adds, "We begin by engaging in conversations with our Team Members, inquiring about their well-being. Subsequently, we offer guidance to help them access resources and professional assistance. During our inaugural mental health day, we invited all team members to participate in learning sessions aimed at self-support and understanding how to support others during challenging times."
The Hilton Aruba Caribbean Resort & Casino would like to thank all the social workers, psychologists and representatives of the foundations for their collaboration. All sessions at the Hilton Aruba Caribbean Resort & Casino were organized in-house, by the resort's social worker and the HR team.