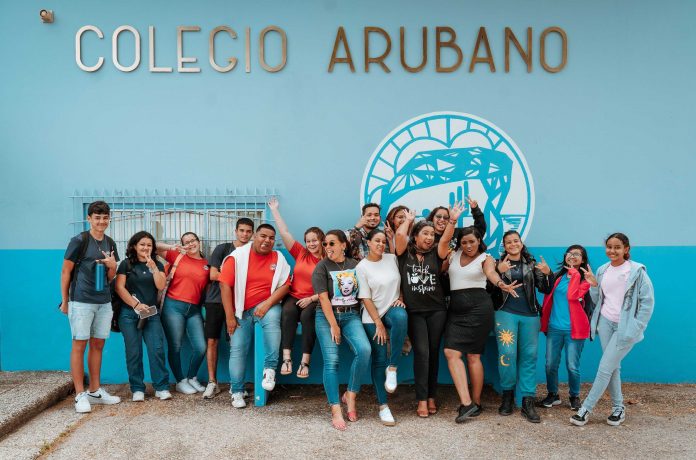 The workshop 'Study choice information' at Colegio Arubano has been a success this past week at. Nearly 300 HAVO 5 and VWO 6 students attended the workshop during school time.
Former students of Colegio stood in front of the class and shared their experience about studying in the Netherlands. This s an initiative of the educational foundation WeConnect, which thus contributes to education choice information.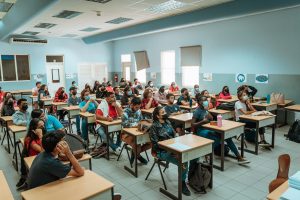 Information
A very large proportion of these students will leave for another country in a few months' time; the choice for the Netherlands is an obvious one. Some already know for sure what they want to study and in which city, others are still unsure. "It is difficult to choose from a distance and the field of choice is complex and diverse, especially with all English-language studies in the Netherlands. Everyone should be able to ask his or her questions. So we are happy with the demand from the schools." says WeConnect manager Tanja Fraai.
Peers
WeConnect works with the peer-to-peer system, so the information officers are former students who went to the Netherlands to study. The Aruban born Nanine Ponson chose Biology and Medical Laboratory Research at the Hogeschool Leiden, followed by a master's degree at the VU University in Amsterdam. "I see a young Nanine in front of me, and I can imagine how difficult it must be to make a choice. My most important advice is not to stand still, because time certainly does not stand still."
Empowerment
Amedee Wever studied Earth Sciences at the University of Amsterdam. "I hope that we have been able to provide insight, inspiration and practical tips and tricks that the students will take with them into the next, very exciting, chapter of their lives. They have unlimited potential, and with the right mindset they are sure to thrive." The third spokesperson, Aruban Joseph Loaiza (Tax Law, Leiden University) adds: "Believe in yourself and just go for it. Your journey is just starting. Enjoy every moment." All three have since returned to their native island as young professionals.
Need
At Colegio people are happy with the information provided by WeConnect. Dean Richeilla Wijngaarde: "As a dean, I think it is important that our students are well informed and prepared for their further education and further life abroad. We are very grateful to WeConnect for their time, energy and the information they have provided to our students."
Follow-up
It makes you want more, those workshops, as the survey among the students showed afterwards. They also indicated that they would like to talk to Arubans who are already studying in the Netherlands. Studies such as Biology and Medical Laboratory Research, International Business and Law are popular. "The students want more information about housing, life-work balance, study pressure, mental health, budgeting and how to deal with Dutch culture." Tanja Fraai explains. WeConnect has offered to facilitate these virtual conversations. All workshops are hosted by Rachel Hughes, the local WeConnect coordinator on the island. The workshop has been running for some time at Colegio Nigel Matthew in San Nicolas.