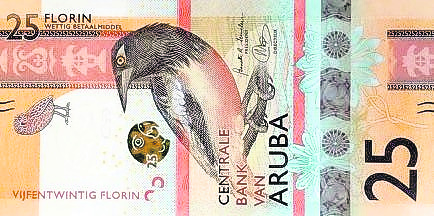 The Centrale Bank van Aruba (CBA) informs the public about the current laws and steps that should be taken when suspecting that a florin banknote could be counterfeit. CBA through this announcement reminds the public in general of the legislation in force concerning the counterfeiting of our florin banknotes.

According to Article 19 paragraph (1) of the State Ordinance governing the monetary system ("Landsverordening regeling geldstelsel" (Lrg) (AB 1991 No. GT34)), a person who suspects that a florin banknote is counterfeit is obliged to immediately take this banknote to the CBA's office to verify its authenticity.
According to articles 169 up to and including 174 of Book 2 of Aruba's Penal Code ('Wetboek van Strafrecht' (AB 2012 no. 14)), persons who are guilty of counterfeiting florin banknotes can receive a criminal sentence of up to nine years in prison.
Each person is responsible for recognizing that a florin banknote is authentic before accepting that banknote. That is why it is very important to be acquainted with the security features on the florin banknotes.
Information on the security features of the florin banknotes is available at the office of the CBA and on its website (www.cbaruba.org), as well as at all commercial banks.
For additional information you can contact the Cash Operations & Logistics Department of the CBA, at telephone number 525-2139 or 525-2141.q