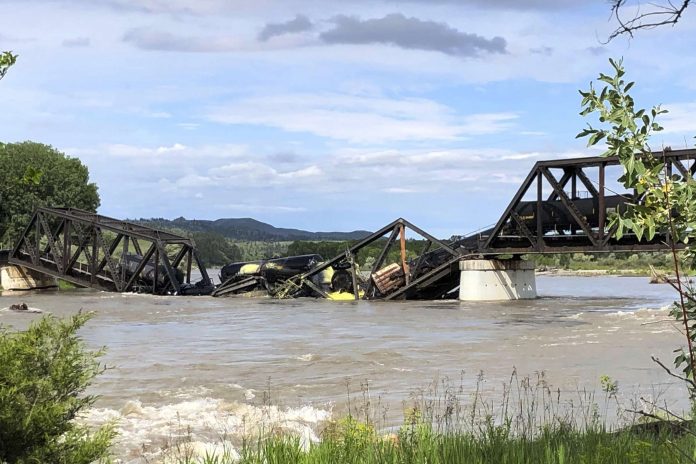 COLUMBUS, Mont. (AP) — Authorities on Sunday were testing the water quality along a stretch of the Yellowstone River where mangled cars carrying hazardous materials remained after crashing into the waterway following a bridge collapse.
Seven train cars carrying hot asphalt and molten sulfur fell into the rushing river Saturday morning near the town of Columbus, about 40 miles (about 64 kilometers) west of Billings. The area is in a sparsely populated section of the Yellowstone River Valley, surrounded by ranch and farmland.
Water testing began Saturday and will continue as crews work to remove the cars, a spokesperson for train operator Montana Rail Link, Andy Garland, said in a statement Sunday. Montana Rail Link was working with the Montana Department of Environmental Quality and the federal Environmental Protection Agency on the cleanup, removal and restoration efforts, he said.
"Montana Rail Link remains committed to addressing any potential impacts to the area as a result of this incident," he said.
The amount of cargo that spilled into the river and the danger it poses to those who rely on the river for drinking and irrigation is still not known, said David Samey, the head of Stillwater County Disaster and Emergency Services. Samey said the water testing was being done by the EPA and state regulators.
However, Garland said both hot asphalt and molten sulfur harden and solidify quickly when mixed with water and modeling suggests that the substances are not likely to move very far downstream.
Crews were still trying to figure out the best way to remove the cars since the crash was so extensive and there was a lot of damage to the cars, Samey said.
The Yellowstone saw record flooding in 2022 that caused extensive damage to Yellowstone National Park and adjacent towns in Montana. The river where the bridge collapsed flows away from Yellowstone National Park, which is about 110 miles (177 kilometers) southwest.
Robert Bea, a retired engineering professor at the University of California Berkeley who has analyzed the causes of hundreds of major disasters, said repeated years of heavy river flows provided a clue to the possible cause.
"The high water flow translates to high forces acting directly on the pier and, importantly, on the river bottom," Bea said Saturday. "You can have erosion or scour that removes support from the foundation. High forces translate to a high likelihood of a structural or foundation failure that could act as a trigger to initiate the accident."
An old highway bridge that paralleled the railroad bridge — together, they were called the Twin Bridges — was removed in 2021 after the Montana Department of Transportation determined it was in imminent danger of falling. The railroad bridge is inspected twice a year and the most recent inspection was performed in May, Garland said.