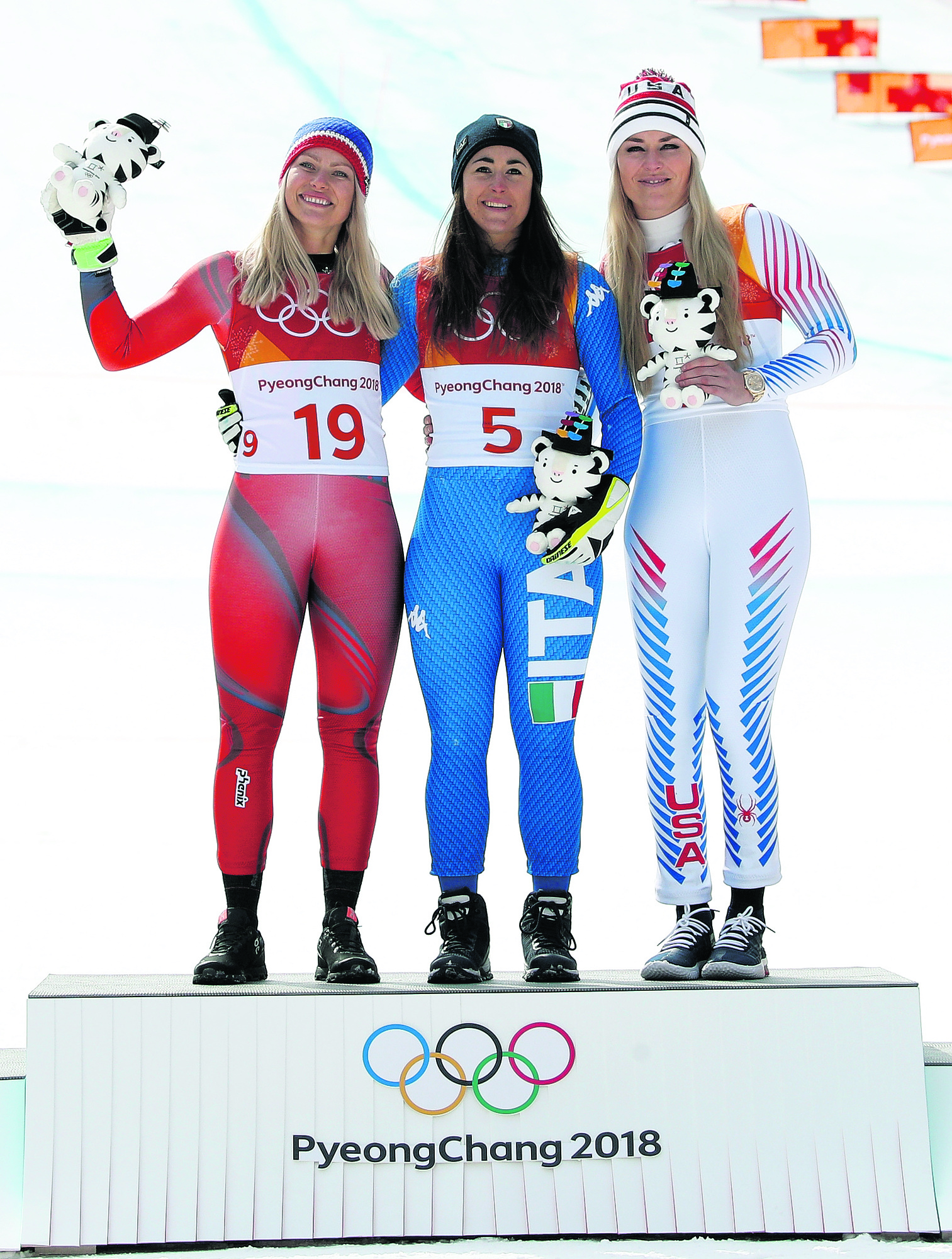 By HOWARD FENDRICH
AP Sports Writer
JEONGSEON, South Korea (AP) — Lindsey Vonn knew that the bronze medal she earned Wednesday came in her final Olympic downhill, the signature event of her singular career. She knew that, but she didn't have an easy time processing it.
That's why the words "probably" and "most likely" kept slipping into her sentences. Why she marked the occasion by posing with dozens of folks for a group photo near the finish line. Why she engaged in a series of warm, lengthy hugs — with her sisters; with U.S. coaches; with the winner, her good friend Sofia Goggia of Italy; with the runner-up, Ragnhild Mowinckel of Norway. With, seemingly, anyone she could grab ahold of.
"I wish I could keep going. I wish this wasn't my last Olympics, but it is," Vonn said, looking down at the snow underfoot and shaking her head, "so I'm trying to accept that and deal with the emotions of that and enjoy the ride."
Goggia finished in 1 minute, 39.22 seconds, just 0.09 seconds faster than Mowinckel. Vonn was 0.47 seconds off Goggia's pace.
"I came here … with one goal: to beat Lindsey," Goggia said.
Yes, for years now, Vonn has been the standard by which all other female ski racers are judged — and judge themselves. And as much as ski racing has meant to Vonn, and as much as Vonn has meant to her sport, she knows that this is, indeed, goodbye.
She is 33, the oldest woman to ever win an Alpine medal at a Winter Games. Vonn's total of three includes downhill gold and super-G bronze at Vancouver in 2010.
The American wasn't at Sochi in 2014, instead "on the couch, watching," she said, after two operations to repair torn ligaments in her right knee. She's endured a lengthy list of injuries .
"It's taken its toll. And that's why I can't keep ski racing, you know?" she said with a sigh. "I think my injuries made me stronger. I do. Because I wouldn't be the same person that I am today. When you're young, you ski and you win and you don't appreciate things. I've been in the fence so many times. I know so many doctors on a first-name basis that it's ridiculous."
All of the rehabbing, all of the recoveries — all worth it.
"Every single meal she's eaten for the last two years is to build up to this moment. Every single gym workout. You don't realize the amount of every single thing she's done every day for the last eight years has been for this day and that 2 minutes," said Vonn's sister, Karin Kildow. "The emotion of it is kind of overwhelming."
Afterward, competitors spoke glowingly about Vonn's influence and legacy.
Fifth-place finisher Alice McKennis of the U.S. praised Vonn's "day-to-day perseverance."
Goggia, who got advice from Vonn over coffee in Colorado a few months ago, said: "She is the greatest. And she had a wonderful career — and she is still 'having,' because it's not over."
It is not. Vonn will compete again Thursday, taking on U.S. teammate Mikaela Shiffrin in the Alpine combined . And then comes the return to the World Cup circuit and Vonn's pursuit of Ingemar Stenmark's record of 86 race wins.
"She has 140 podiums. Me? I have 20. She has 81 victories. I have four. Five, with this," Goggia said with a laugh. "But she's unbelievable."
Under a bright sun and on a course that was not very steep, Goggia was better than anyone at a hill where she beat Vonn in two World Cup races last March. This time, Goggia was not great at the outset, nearly fell backward while landing a jump midway through, then was terrific on the final third of the course. When her run ended, she shrugged.
"I knew I had a competitive time, but I didn't know if it would be enough for gold," Goggia said. "You've seen me more excited after a third-place World Cup finish."
Vonn went two racers later, the seventh starter overall, and kept losing ground throughout.
"I just saw the middle part of the run, where I was standing. It was just a little tentative, a little uncharacteristic, not quite charging," coach Chris Knight said.
Knight thought that knowing this would be the close of Vonn's Olympic downhill career informed her performance.
"Realistically speaking, it has to play on your mind," he said. "You've got one chance."
When Vonn crossed the line, she put her head back, spread her arms wide, then jutted an index finger toward her pal. Goggia exhaled.
"We saw each other and she pointed at me, like, You again!" Goggia said.
Vonn looked skyward and blew kisses in the air, a tribute to her grandfather , who passed away last year.
"I wanted desperately to win for him today," she said. "I wish he was here. I wish he could have watched me. But I think he still is."
If a screenwriter might have opted to let Vonn leave the scene with a medal of a different hue, she sounded at peace with the result.
The time spent in hospitals, the wait to get back on this stage, helped make the meaning clear.
"Today," she said, "bronze, to me, feels like gold."