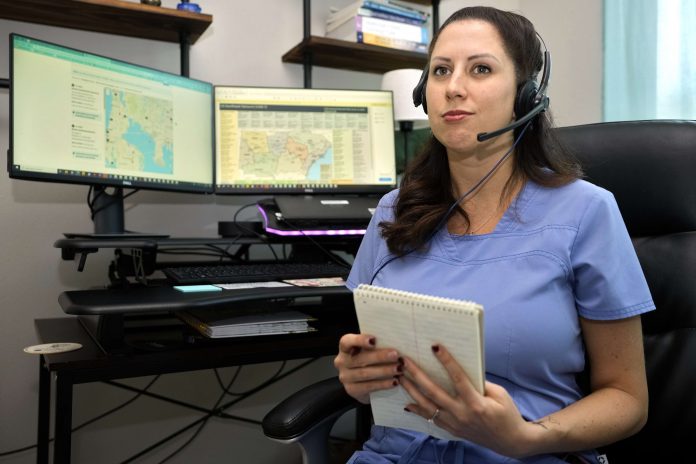 By Chris Megerian
Associated Press
WASHINGTON (AP) — Nicole Leger always thought of the burn pits at military bases in Afghanistan as more like campfires than health hazards. Ordered to dispose of sensitive documents, she would toss the paperwork into the flames while catching up with fellow soldiers, moments of quiet bonding that provided a respite from her riskier work as a hastily trained medic for the U.S. Army.
"We really didn't see that it was dangerous at the time," she said. "It was just part of the mission. So we had to get it done."
But then her sinus problems began, only worsening after she returned home, where she sometimes found herself gasping for breath at night. She remembered thinking, "This wasn't who I was before I got in."
Although Leger already received disability benefits for post-traumatic stress, migraines and a hip fracture, it wasn't until President Joe Biden signed legislation known as the PACT Act last year that her monthly payments expanded to take into account the impact of the burn pits. Now 34 years old, Leger and her fiancé have moved out of a cramped townhouse and into a larger home in a suburb of Tampa, Florida, where their four children can each have a bedroom.
"I still wake up pinching myself," she said.
Leger is one beneficiary of the largest expansion of veterans assistance in decades, and the administration is racing to sign up as many people as possible as the first anniversary of the law approaches. Although there's no deadline to apply, anyone who files a claim or simply signals the intent to do so by Wednesday could collect payments retroactive to last year if the claim is approved.
Under the law, certain cancers and ailments are presumed to be connected to the burn pits that were used to dispose of trash and potentially toxic materials. For veterans who served during the Vietnam War, hypertension and other conditions were added to the list of problems presumed to be caused by exposure to Agent Orange, which was used by the U.S. military to clear vegetation.
Biden will mark the law's anniversary at a Veterans Affairs hospital in Salt Lake City on Thursday. According to administration statistics, the Department of Veterans Affairs has received nearly 786,000 disability claims under the PACT Act, processed almost 435,000 and approved more than 348,000.
About 111,000 veterans who are believed to have toxic exposure have enrolled in VA health care since the law was enacted. In addition, more than 4.1 million veterans have completed toxic screenings, which are questionnaires to analyze their potential exposure and determine whether additional tests are required.
Implementing the legislation has proved challenging for the VA despite hiring new staff to accommodate a historic influx of claims. The backlog is about 266,000, meaning waits of at least four months for claims to be processed, and the list is expected to grow to 450,000 in October and 730,000 in April. During a recent oversight hearing. Sen. Thom Tillis, R-N.C., expressed concern about "bad trends."
Despite the growing backlog, the VA has kept up its outreach efforts. It has spent $7.5 million on advertising, including a billboard in New York's Times Square, and hosted events around the country. Comedian Jon Stewart, who played a leading role in pushing for the PACT Act, has chipped in by posting videos on social media.
For a moment last year, it looked like the PACT Act might not get approved. The legislation unexpectedly stalled when Republicans balked, leading some advocates to start camping outside the Capitol. Biden had contracted the coronavirus and could not visit in person, so he sent McDonough with pizza and he talked to the veterans over FaceTime.
The pressure campaign worked, and Congress passed the measure. It was a bipartisan success but also a personal victory for Biden, who has long believed that his eldest son, Beau, developed fatal brain cancer from serving near burn pits in Iraq as a captain in the Delaware Army National Guard.
McDonough sees the PACT Act as a turning point for the VA, making the nation's largest health care system more agile, robust and competitive.
The legislation authorized the VA to expand its facilities through 31 leases, and it is pursuing them in 19 states. VA employees can now receive higher bonuses and more help with student loans than before. There are additional incentives for recruitment, retention and relocation.
In the past year, the VA has expanded by more than 21,000 health care workers and 4,300 employees for processing benefits.
But officials said the process remains too slow. Bringing on a new health care worker can take several months as the VA checks backgrounds and certifications, a delay that can lead candidates to find jobs elsewhere.
McDonough said the agency is not "where we need to be," adding that "we'll keep working on that."
When former Army National Guard Sgt. Iona Bussiere turned 40 last year, she had her first mammogram and discovered breast cancer — stage 3 on one side, stage 2 on the other.
Since then it has been a blur of treatments, including months of grueling chemotherapy — "for the last three weeks I was like a zombie," she said — and a recent mastectomy. Bussiere, who lives in Providence, Rhode Island, is starting radiation and expects to be taking pills for years to come.
Under the PACT Act, breast cancer is presumed to be caused by serving in proximity to burn pits. Bussiere said they were "everywhere" during her deployments in Iraq and Kuwait.
Although she wishes that the VA had started providing cancer screenings earlier, she said the benefits also provide "a lot of relief."