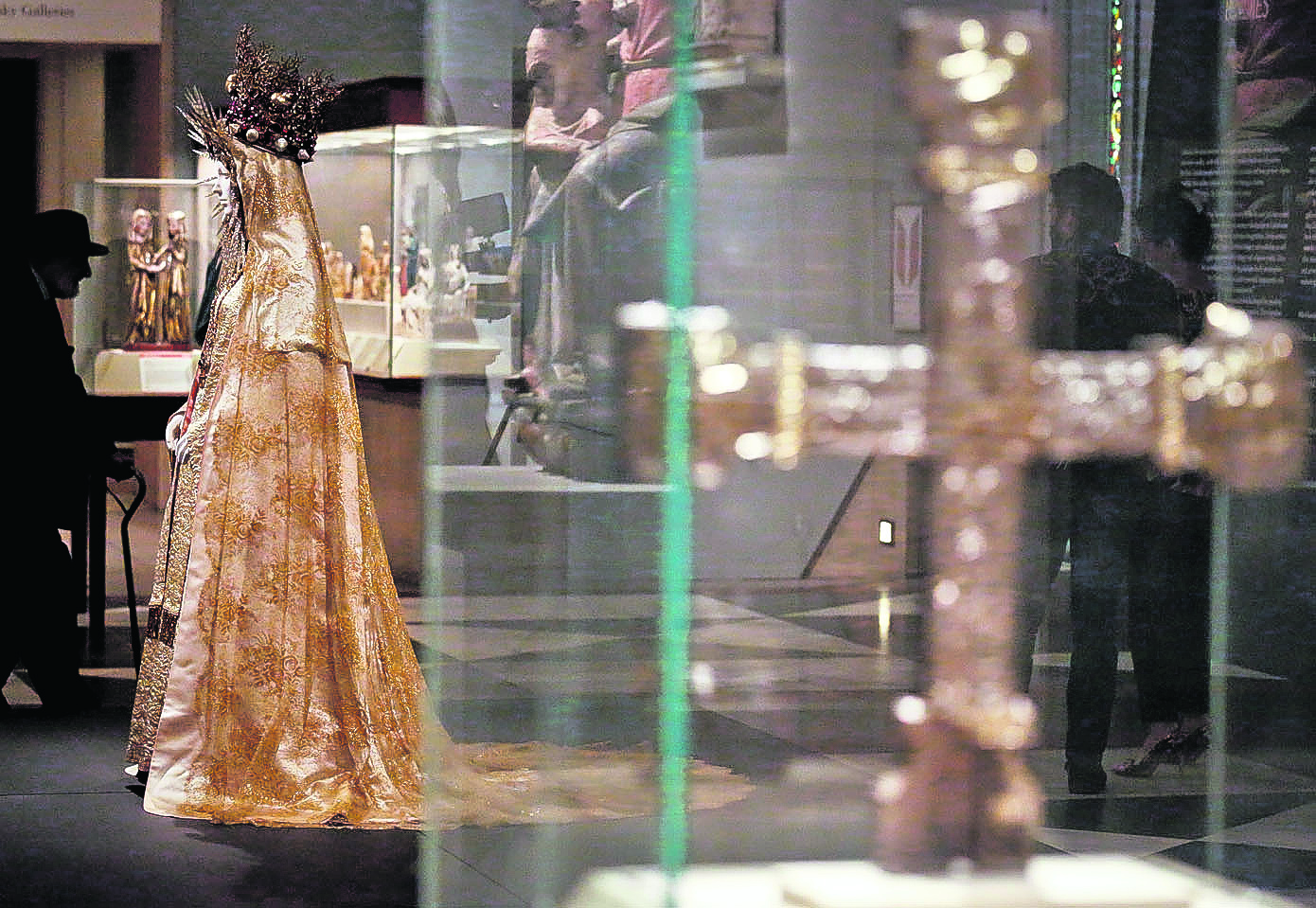 By JOCELYN NOVECK
AP National Writer
NEW YORK (AP) — Tiaras encrusted with thousands of diamonds, emeralds and rubies. Papal cloaks and vestments with golden embroidery so fine they took 16 years to produce. If you're going to wield power, you need to dress the part — and it seems few have understood that better than the leaders of the Roman Catholic Church through the centuries. That's one of the key takeaways from the latest mega-exhibit at the Metropolitan Museum of Art's Costume Institute, a look at the influence of Catholicism on fashion. It opens Thursday and runs through Oct. 8.
If you're looking for modern examples of the relationship between the two, consider that they called Pope Benedict XVI the "Prada Pope," based on rumors — urban legend, it turns out — that his stylish red loafers were from the storied fashion house. They weren't, and actually his predecessor, John Paul II, had a similar pair, now on display at the Met — part of a long papal tradition. That didn't stop Benedict from being named Esquire's 2007 Accessorizer of the Year. But examples go back earlier — WAY earlier, according to "Heavenly Bodies: Fashion and the Catholic Imagination," the Met's annual spring fashion exhibit and the biggest one yet, spanning a full 25 galleries and stretching from the Metropolitan on Fifth Avenue to its Cloisters branch in upper Manhattan.
As always, the show makes its debut at the star-studded Met Gala on Monday night. Will the celebrity bling match the Vatican bling? Not likely. Take, for example, just one stunning tiara that glimmers in the Institute's galleries, a three-tiered concoction that gleams with 19,000 gems — 18,000 of them diamonds, along with rubies, sapphires and emeralds. It was a gift from Queen Isabella of Spain to the 19th-century Pope Pius IX, who wore it at Christmas Mass in 1854. Or a huge white-and-gold papal mantle — a voluminous cape of taffeta embroidered with gold metal thread, tinsel and paillettes. A set of 12 such vestments took 15 workers some 16 years to complete, the museum says.
They are just a few of the 42 items that curator Andrew Bolton, who has become known for his blockbuster Met exhibits, brought back from the Sistine Chapel's sacristy at the Vatican. Bolton made 12 trips over two years to secure the items, many which had never been outside the Vatican; in an interview this weekend in the galleries, he described hunching over to get through "an itty bitty door" at the edge of the chapel, where inside, untold treasures awaited. Each time he looked in the labyrinthine sacristy, he would see more tantalizing items. "I asked for six," he says. "I ended up with 42." The Vatican's only condition was that its works be exhibited on their own, separate from the fashion part of the show. The Vatican collection even has its own separate volume in the show's huge catalog.
Bolton says he realizes people may think there's something unseemly about connecting the commercial theme of fashion with lofty theme of religion. But, as he writes in the catalog, "Dress is central to any discussion about religion: it affirms religious allegiances and, by extension, asserts religious differences." And, he points out, he always wants to confront timely cultural issues in his exhibitions. He was backed up on Monday morning by none other than Cardinal Timothy Dolan, the Roman Catholic archbishop of New York, who greeted the crowd at the official press preview by saying, "You may be asking, what's the Church doing here?" He explained that the Catholic imagination embodied not only truth and goodness but beauty, too.
"The truth, goodness and beauty of God is revealed all over the place, even in fashion," he said. Cameras clicked furiously as the cardinal left the event with Donatella Versace, one of the chief funders of the show along with Christine and Stephen Schwarzman. Almost all the designers included in the show have some relationship to Roman Catholicism, even if they were just born into Catholic families, Bolton says. They include names like Gianni Versace, Dolce & Gabbana, Christian Lacroix, Valentino, Jean Paul Gaultier, and Cristobal Balenciaga, the iconic Spanish designer who, Bolton says, was deeply religious. Some designers initially told Bolton that their work wasn't influenced by religion, but later emailed upon realizing that, in fact, it played a role in their creative imaginations.
"I never thought one's religious upbringing could have such an influence," he says. After viewing the Vatican collection in the Anna Wintour Costume Center, one can wind one's way upstairs to the Met's Byzantine and medieval rooms, home to many religious objects. Garments have been strategically placed to show the relationship between, say, a 12th-century gem-studded cross and a long-sleeved ensemble by Lacroix, emblazoned with a similar cross, this one studded with multicolored crystals. There's an 11th-century gilded cross that appears to inspire a spectacular Versace evening gown of gold metal mesh, glass crystals  and silk charmeuse. There's also a gleaming Versace bridal mini-dress, in gold and silver mesh, with a bridal veil emblazoned with a cross, and a black silk mini-skirt topped with a shiny, halter-style bodice that depicts the Madonna and child in brilliantly colored crystals.
If Dolce & Gabbana is more your style, there's a series of gleaming crystal and bead-encrusted gowns and dresses that look just like Byzantine mosaics from Sicily. Balenciaga is also represented with a red-and-black reversible coat resembling that of a cardinal. On a balcony are 21 original white robes that he made for a local church choir. Another section features designer gowns that recall paintings by Fra Angelico, the Italian Renaissance painter, including a series of filmy gowns by Rodarte, Lanvin and others. The faces of the made-to-order mannequins match those of famous religious works that inspired Bolton.
While the Met's Fifth Avenue museum focuses on the pageantry and public side of the church, the Cloisters section focuses on the more reflective, contemplative side. Bolton says his original idea was to have a multi-religion exhibit. That may happen one day, but he found so much material relating to Catholicism that he decided to focus on that. And what of the celebrities who will be interpreting the dress code on Monday night? They were advised that the theme was "Sunday Best." "It's an implicit plea to dress somewhat more modestly," Bolton quips.