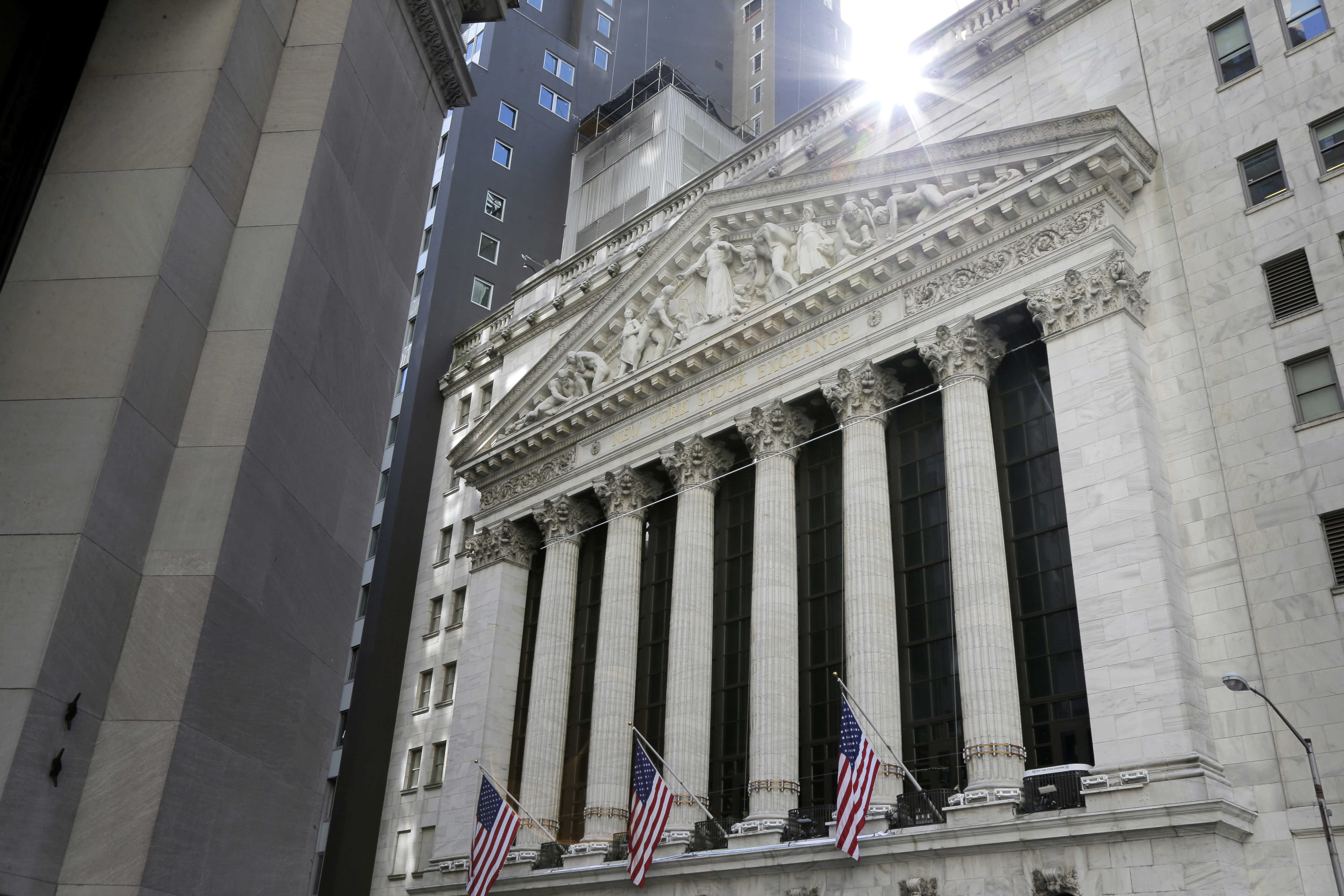 By ALEX VEIGA
Associated Press

Energy companies helped pull U.S. stocks modestly lower in morning trading Monday, adding to the market's losses from last week. Retailers and other consumer-focused companies also fell, outweighing gains by technology stocks. Investors' jitters over escalating global trade tensions and weak economic data from Asia weighed on the market. Oil prices headed lower.
KEEPING SCORE: The S&P 500 index fell 7 points, or 0.3 percent, to 2,710 as of 11:29 a.m. Eastern Time. The Dow Jones industrial average slid 90 points, or 0.4 percent, to 24,180. The Nasdaq lost 10 points, or 0.1 percent, to 7,500. The Russell 2000 index of smaller-company stocks gave up 2 points, or 0.1 percent, to 1,640.
THE QUOTE: "You saw some of the more tariff-sensitive stocks a little bit weaker on the opening," said JJ Kinahan, chief market strategist for TD Ameritrade. "It's all headline news trading."
TRADE JITTERS: Investors continued to focus on escalating global trade tensions. The European Union warned the Trump administration Monday that it might slap tariffs on $300 billion of U.S. exports in retaliation for Trump's threatened tariffs on European cars. On Sunday, Canada started imposing tariffs on billions of dollars of U.S. goods in response to the Trump administration's duties on Canadian steel and aluminum. Meanwhile, the U.S. is set to impose a 25 percent tariff on up to $50 billion of Chinese products starting this Friday. In response, China has said it will raise import duties on $34 billion worth of American goods.
ENERGY: Trump claimed over the weekend that Saudi Arabia will raise oil production by "maybe up to 2,000,000 barrels" in response to turmoil in Iran and Venezuela. This is higher than the 1 million barrels-a-day increase that OPEC countries have agreed on, sending oil futures on a decline. Benchmark U.S. crude fell 42 cents to $73.73 a barrel in New York. Brent crude, used to price international oils, declined $1.37, or 1.7 percent, to $77.86 in London. The decline in oil prices weighed on energy stocks. Chevron lost 1.5 percent to $124.58.
RETAIL SLUMP: Shares in several department store chains declined. Nordstrom fell 3 percent to $50.21, while Macy's lost 2.8 percent to $36.40. Kohl's gave up 2.3 percent to $71.20.
ON TRACK: Tesla rose 1.3 percent to $347.50 after the electric car maker said it reached its goal of producing 5,000 of its lower-priced Model 3 sedan per week at the end of June.
GOING PUBLIC, AGAIN: Tracking shares in computer maker Dell gained 8.3 percent to $91.56 after it announced it would go public again after five years as a private company. Meanwhile, shares in VMWare jumped 7.4 percent to $157.84 on speculation that Dell may buy the rest of the business software company, which will also issue a special dividend to
shareholders.
DISCOURAGING DATA: China's manufacturing activity slowed in June, adding to concerns that the economy is cooling due to tighter government controls on lending. Meanwhile, the Bank of Japan's "tankan" survey measuring confidence among large-scale manufacturers was at 21 points, down 3 from the March survey, which was the first decline in two years.
The downbeat economic data weighed on casino operator Wynn Resorts, which has several resorts in Macau. The company was the biggest decliner in the S&P 500 as its shares gave up 7.7 percent to $154.46.
MEXICAN ELECTION: Voters in Mexico delivered a tidal wave presidential election victory to Andres Manuel Lopez Obrador, giving him a broad mandate to upend the political establishment and govern for the poor. The widely expected result could complicate the Trump administration's bid to negotiate a trade agreement with Mexico.
BOND YIELDS: Bond prices were little changed. The yield on the 10-year Treasury held at 2.86 percent.
CURRENCIES: The dollar slipped to 110.79 yen from 110.88 yen on Friday. The euro weakened to $1.1597 from $1.1669.
MARKETS OVERSEAS: Germany's DAX fell 0.3 percent, while France's CAC 40 lost 0.8 percent. Britain's FTSE 100 gave up 0.9 percent. Markets in Asia were overshadowed by weaker than expected Chinese manufacturing data and a softening in Japan's economic outlook. Japan's benchmark Nikkei 225 index plunged 2.2 percent and South Korea's Kospi tumbled 2.4 percent. Australia's S&P/ASX 200 lost 0.3 percent. Taiwan's benchmark fell but Southeast Asian indexes were mixed. Hong Kong's markets were closed for a market holiday.