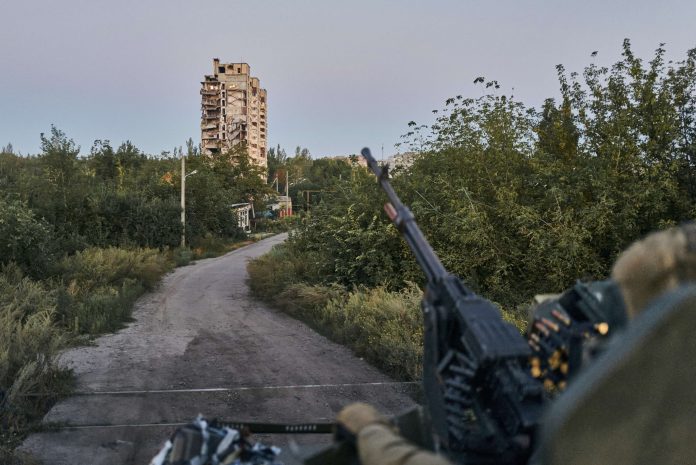 By ILLIA NOVIKOV
Associated Press
KYIV, Ukraine (AP) — Ukraine on Tuesday claimed to have carried out one of the most destructive attacks on Russian air assets since the beginning of the war, with Ukrainian President Volodymyr Zelenskyy saying the assault used longer-range ballistic missiles donated by the United States.
Zelenskyy's announcement came hours after a U.S. official revealed that the longer-range ballistic missiles sought for months by Kyiv and promised by President Joe Biden had been delivered quietly and are in battlefield use.
Ukraine's Special Operations Forces claimed it destroyed nine Russian helicopters at two airfields in Russia-occupied regions in a nighttime attack on targets in eastern and southern Ukraine.
It also hit military equipment, an air-defense system, ammunition warehouses and runways, a statement said. Dozens of Russian military personnel were injured in the attack codenamed Operation Dragonfly, it said.
Several U.S. officials said that Washington provided Ukraine with a small number of the Army Tactical Missile System, known as ATACMS, making good on a promise made by Biden last month.
Zelenskyy offered "special thanks" to the United States for sending the ATACMS. "Our agreements with President Biden are being implemented," Zelenskyy said in his usual evening address to the nation, saying the ATACMS "have proven themselves."
The weapons development piles pressure on the Kremlin as both sides look for battlefield advantages ahead of winter and what is shaping up as a protracted war of attrition.
While some versions of the missiles can go as far as about 180 miles (about 300 kilometers), the ones sent to Ukraine have a shorter range and carry cluster munitions, which, when fired, open in the air, releasing hundreds of bomblets rather than a single warhead. According to a U.S. official, the ones delivered to Ukraine have a maximum range of a bit more than 100 miles (roughly 160 kilometers).
The Ukrainian statement didn't say how the targets were hit. Russian authorities didn't comment on the report. It wasn't immediately possible to verify the two sides' battlefield claims.
The airfields, in the Luhansk and Berdyansk regions, are located behind the front line. The Russian military apparently thought that they were at a safe distance from Ukrainian attacks.
Meanwhile, Russia is throwing more units into its effort to take a key eastern Ukraine city, Western analysts say, after apparent setbacks that have slowed its dayslong onslaught.
The attempt to storm Avdiivka, a heavily defended city that stands in the way of Moscow's ambition of securing control of the entire Donetsk region, is Moscow's most significant offensive operation in Ukraine since the start of the year, the U.K. defense ministry said Tuesday.
The Kremlin's push to claim Avdiivka comes after months of fending off Ukraine's counteroffensive, which Kyiv launched some 16 months after Russia's full-scale invasion.
The Russian forces deployed to Avdiivka are likely making slow progress and sustaining high casualties in what is proving a costly effort, the U.K. defense ministry said on X, the social media platform formerly known as Twitter.
The pace of Russia's attack on the heavily fortified target has reportedly slowed in recent days since its launch last week, a Washington-based think tank said.
Russian officials made no immediate comment on developments around Avdiivka.
Citing the Ukrainian General Staff, the Institute for the Study of War said Ukrainian forces pushed back 22 Russian attacks on Monday, down from 30 reported assaults the previous day. Kyiv officials said Russia mounted up to 60 attacks per day in the middle of last week.
The Ukrainian defense ministry said Tuesday that Russia is nevertheless still attempting to encircle the city, with 10 attacks over the previous 24 hours.
The U.K. defense ministry said Russia's effort to overrun Avdiivka "looks increasingly unlikely in the short term."