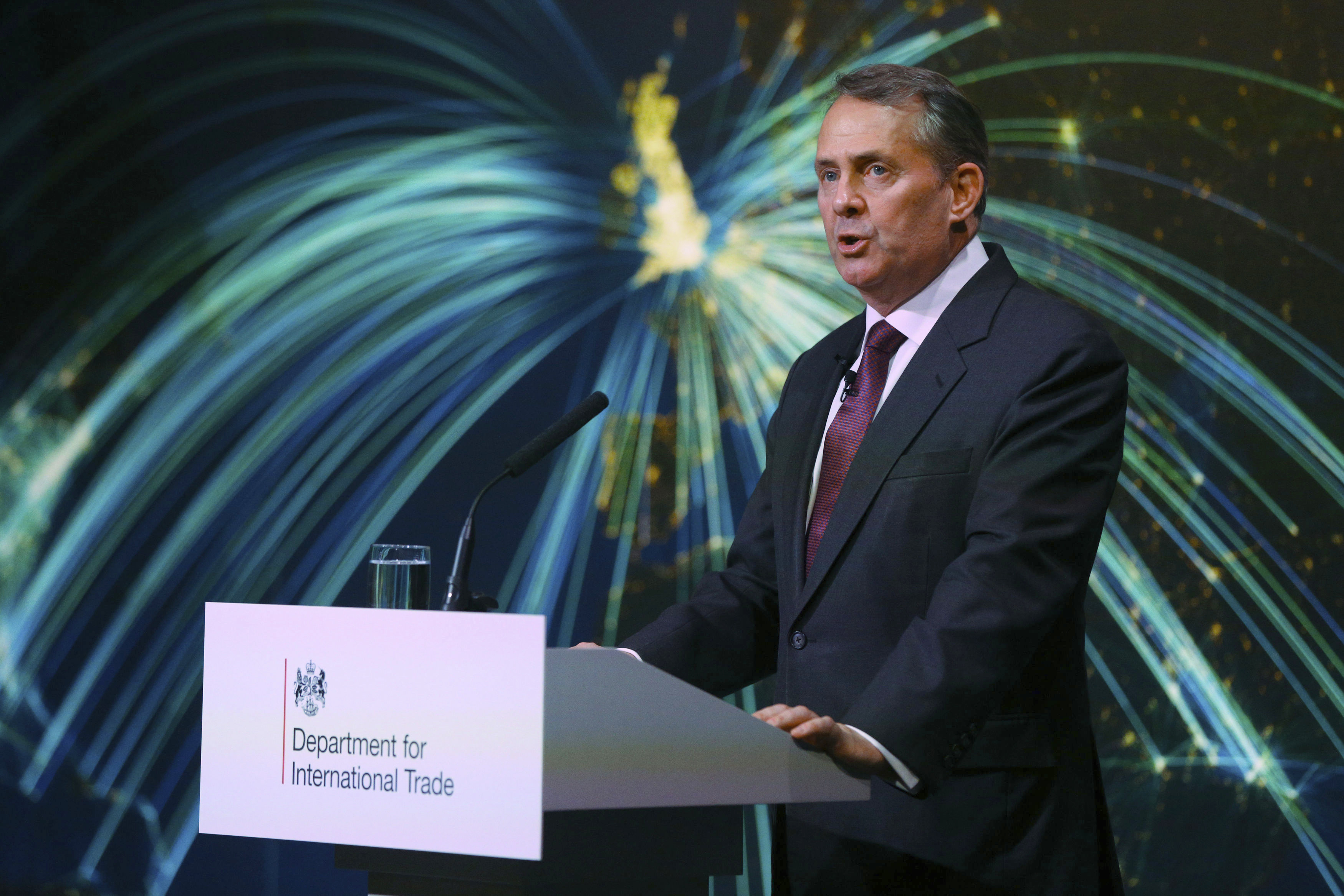 By JILL LAWLESS
Associated Press
LONDON (AP) — Britain must leave the EU customs union to strike new trade deals after Brexit, the country's trade minister said Tuesday, widening a major fissure within British politics over future trade relations with the bloc. In Brussels, the EU's chief Brexit negotiator warned that the bloc and Britain have significant differences, with only months until a deadline to agree on a divorce deal.
U.K. International Trade Secretary Liam Fox said 90 percent of global growth in the next 10 to 15 years will be outside Europe, and remaining inside the tariff-free EU trade zone "would limit our ability to reach new trade agreements with the world's fastest-growing economies."
In a speech in London, Fox branded customs union membership "a complete sellout of Britain's national interests" because it would mean accepting EU rules after Britain leaves the bloc in 2019 without having a say over how they are made.
But Fox was contradicted by the trade department's former top civil servant. Martin Donnelly, who left his job last year, said quitting the customs union was like "giving up a three-course meal … for the promise of a packet of crisps in the future." He said 60 percent of Britain's trade is with the EU or with countries that have EU trade deals.
"You just have to look at the arithmetic — it doesn't add up, I'm afraid," Donnelly said.
Fox spoke a day after opposition leader Jeremy Corbyn said his Labour Party would "seek to negotiate a new, comprehensive U.K.-EU customs union to ensure there are no tariffs with Europe."
The issue is a major fault line in U.K. Brexit plans. While pro-Brexit politicians such as Fox argue for leaving the customs union and the EU's single market in goods and services, others want Britain to retain close ties with the EU to soften the economic shock of leaving. Opposition lawmakers are trying to ally with pro-EU Conservatives to win a vote in Parliament backing continued customs union membership.
French President Emmanuel Macron said Tuesday that Britain could stay in a customs union with the EU, though he cautioned that this "doesn't allow full access to the single market."
In addition to its implications for trade, leaving the customs union would complicate the issue of the Irish border. Britain and the EU have both promised there will be no customs posts or other border infrastructure along the currently invisible frontier between Northern Ireland, which is part of the U.K., and EU member Ireland.
But it is not clear how that could be achieved if one side of the border is in the EU customs union and the other isn't. Some fear the return of a hard border will hurt cross-border businesses, fuel smuggling and heighten political tensions in a region still moving on from decades of violence. Foreign Secretary Boris Johnson dismissed concerns about the issue, comparing the Irish border to the boundary between different London boroughs.
He told the BBC "there's no border between Camden and Westminster," but drivers who go between them are electronically billed for the city's traffic-easing Congestion Charge.
Johnson said "it's a very relevant comparison because there's all sorts of scope for pre-booking, electronic checks, all sorts of things that you can do to obviate the need for a hard border." Opposition politicians expressed astonishment at the comparison. Labour Party lawmaker David Lammy tweeted: "God help us all this isn't just stupidity and ignorance but willful recklessness."
On Wednesday the EU will publish its draft text of a withdrawal agreement made between the two sides in December, which included a commitment to keeping an open Irish border.
EU Brexit negotiator Michel Barnier said the bloc was happy to discuss how best to solve the border issue, but had yet to receive concrete proposals from Britain.
Barnier said "a lot of divergence" remains on issues including the length of a post-Brexit transition period and the rights of citizens in each other's countries.
"I'm concerned that time is short between now and next autumn," when any Brexit agreement must be concluded to allow time for parliaments to ratify it, he said.