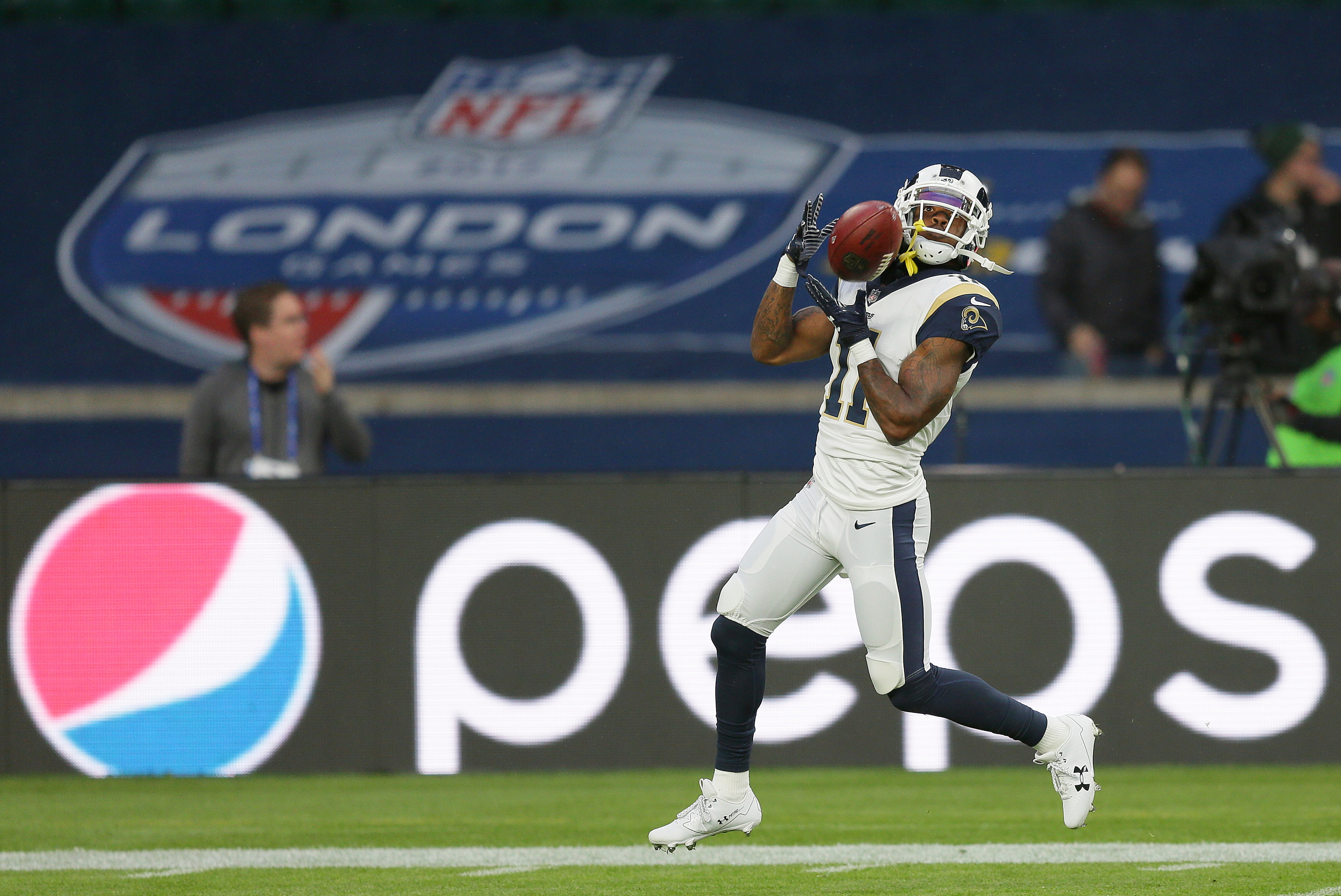 By PAUL NEWBERRY
AP Sports Columnist
An NFL team in London? Count on it. An NBA franchise in Mexico City? Yep, that's coming too. What was once a pipe dream — major-league teams based in cities outside the United States and Canada — is now just a matter of time. The aforementioned cities are the ones most likely to break through first, but others will surely follow when everyone sees how much potential revenue is there for the taking. "The market is saturated in the U.S.," said Gil Fried, a professor and chair of sports management at the University of New Haven. "They need to find new markets."
The NFL has been trying for years to make inroads in Europe — especially London — and those efforts were turned up to full blast by revelations that Jacksonville Jaguars owner Shahid Khan is attempting to buy Wembley Stadium, a 90,000-seat, state-of-the-art venue known the world over. Khan brushed off the obvious speculation that this is the first step toward moving the Jaguars to London — where they already have been playing "home" games since 2013 — but didn't exactly provide a resounding vote of confidence for Jacksonville, one of the smallest markets in the NFL. "The first thing you want with certainty is you want a venue," he said. "And this gives us a stadium solution, for us or anyone else."
In other words, better get used to calling his team the London Jaguars. "Shad Khan's purchase of Wembley Stadium portends that a substantive NFL presence in London, and ultimately a franchise, is inevitable," said Vince Benigni, a professor of sports communication at the College of Charleston. The NBA, which last expanded in 2004, is looking to get the jump on Mexico City, a sprawling metropolis of more than 20 million people that opened an NBA-ready arena in 2012. That facility hosted a pair of NBA regular-season games each of the last two seasons , drawing an average of more than 20,000 fans.
"You can feel it, you can smell it, you can breathe it in the streets." said Gilberto Hernández, president of the Mexican Basketball Federation. "They're just craving basketball." Of course, there are a number of challenges that must be addressed before international expansion becomes a reality — especially so for Mexico City, which is 7,350 feet above sea level (more than 2,000 feet higher than Denver), is plagued by crime and economic-disparity issues, and might have trouble signing top players who are reluctant to step outside their cultural comfort zone. But the appeal is enormous.
"It's the largest city in the Western Hemisphere," NBA Commissioner Adam Silver said. "It's part of a 130 million-person country. There's a very strong, passionate Mexican-American fan base in the United States. This is also a potential gateway for all of Latin America." The NHL first floated the prospect of a European division in the late 1960s. Detroit Red Wings owner Bruce Norris was so fixated on the idea that he launched his own team, the London Lions, who played a 72-game schedule against top European teams in 1973-74. Unfortunately, the Lions never had a league of their own, so the team quietly disbanded after that single season, leaving behind nothing more than a cool logo .
Over the last two decades, the NHL has scheduled regular-season contests in Europe and Japan, including two games in Stockholm this past November. The Asian market also remains a top priority, especially heading into the 2022 Olympics in Beijing — though the league sent mixed signals by refusing to send its players to this year's Winter Games in South Korea.
For the NHL and the NBA, the enormous travel times between North America and either Europe or Asia remain the biggest obstacle to adding teams in those markets. Unless some sort of supersonic transportation becomes available, it would simply be too difficult to incorporate such faraway cities as London and Tokyo into an 82-game schedule, which requires teams to play games all through the week and sometimes on back-to-back days.
Also working against European expansion: the lack on U.S.-quality arenas (even the most modern facilities generally lack the size and amenities to generate as much revenue as their American counterparts) and established basketball and hockey leagues in many countries would surely object to the NBA or NHL coming in to steal their limelight. For the NFL, the challenges aren't nearly so daunting, and the potential rewards could be even greater for a league that has faced declining TV ratings and lots of bad publicity about the devastating physical toll on its players. There are no major pro football leagues in Europe. Teams play only once a week, generally on Sunday, and the entire regular-season schedule is just 16 games.
A team in London would have to make the cross-Atlantic trek no more than eight times a year, and the demands could be lessened by scheduling back-to-back road games, halving the number of long-range roundtrips. A London team could even maintain its base of operations in the U.S., essentially playing all its games on the road but perhaps making it easier to sign players in free agency and cope with legal issues and currency fluctuations.
Travel would not be a concern for a Mexican team. The NBA, NFL and Major League Baseball have all played regular-season games south of the border — next weekend, in fact, the Los Angeles Dodgers will meet the San Diego Padres in a three-game series at Monterrey .
MLB seems the most logical candidate to launch a Mexican team, given baseball's popularity and the large number of Latin American players in the majors, but the NBA is leading the way. Silver wants to put a G League development team in Mexico City, testing the waters for a possible NBA franchise. "As we look down the road, frankly, to see whether there can be an opportunity to even dream about an NBA franchise here in Mexico City, we believe it makes sense as a first step to have a development league team here to work out some of the issues, to better understand what it would mean to have a team in Mexico," Silver said.
There are still plenty of questions to answer, that's for sure. But one is crystal clear.
Are U.S. leagues going international? No doubt about it.