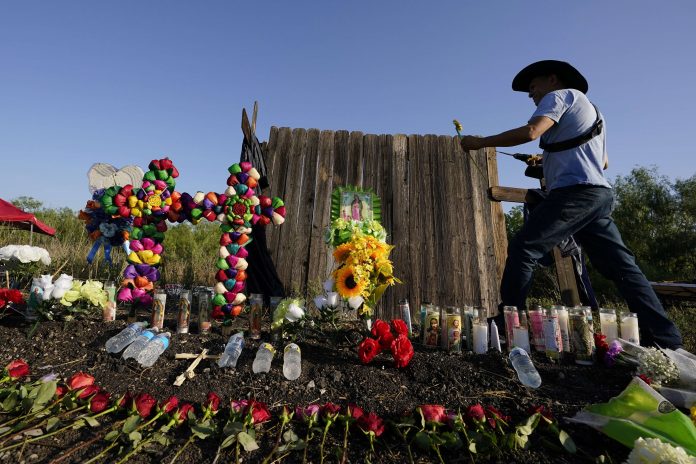 Associated Press
SAN ANTONIO (AP) — U.S. authorities on Tuesday announced the arrests of four more people in last year's smuggling deaths of 53 migrants, including eight children, who were left in a tractor trailer in the scorching Texas summer.
Authorities said on the anniversary of the June 27, 2022, tragedy that the four Mexican nationals were aware that the trailer's air-conditioning unit was malfunctioning and would not blow cool air to the migrants trapped inside during the nearly three-hour ride. When the trailer was opened in San Antonio, 48 migrants were already dead. Another 16 were taken to hospitals, where five more died.
It was the deadliest tragedy to claim the lives of migrants smuggled across the border from Mexico. The dead included 27 from Mexico, 14 from Honduras, seven from Guatemala and two from El Salvador,
The driver and another man were arrested shortly after the migrants were found. They were charged with smuggling resulting in death and conspiracy.
The four new arrests were made Monday in Houston, San Antonio and Marshall, Texas. Authorities said the smuggling operation transported migrants from Guatemala, Honduras and Mexico by sharing routes, guides, stash houses, trucks and trailers, some of which were stored at a private parking lot in San Antonio.
The new defendants are Riley Covarrubias-Ponce, 30; Felipe Orduna-Torres, 28; Luis Alberto Rivera-Leal, 37; and Armando Gonzales-Ortega, 53. All are charged with conspiracy to transport immigrants resulting in death, serious bodily injury and placing lives in jeopardy. Each man faces a maximum penalty of life in prison if convicted.
A federal grand jury indictment alleges that the four men exchanged the names of migrants who would be smuggled in a truck. Orduna-Torres provided the address in the Texas border city of Laredo where they would be picked up, and Gonzalez-Ortega met them there. The four then coordinated the trip, exchanged messages about the truck's progress on the drive to San Antonio.
The truck was found on a remote San Antonio road, and arriving police officers detained driver Homero Zamorano Jr. after spotting him hiding in some nearby brush.
Surveillance video captured footage of the 18-wheeler passing through a Border Patrol checkpoint. One survivor, a 20-year-old from Guatemala, told The Associated Press that the smugglers had covered the trailer's floor with what she believes was powdered chicken bouillon, apparently to throw off any dogs at the checkpoint.
Another survivor, Adan Lara Vega, said the truck was already hot when it left Laredo and that the trapped migrants soon started crying, and pleading for water. Some took turns breathing through a single hole in the wall, while others pounded on the walls and yelled to get the driver's attention.
"Human smugglers prey on migrants' hope for a better life — but their only priority is profit," Attorney General Merrick Garland said in a statement. "Tragically, 53 people who had been loaded into a tractor-trailer in Texas and endured hours of unimaginable cruelty lost their lives because of this heartless scheme."