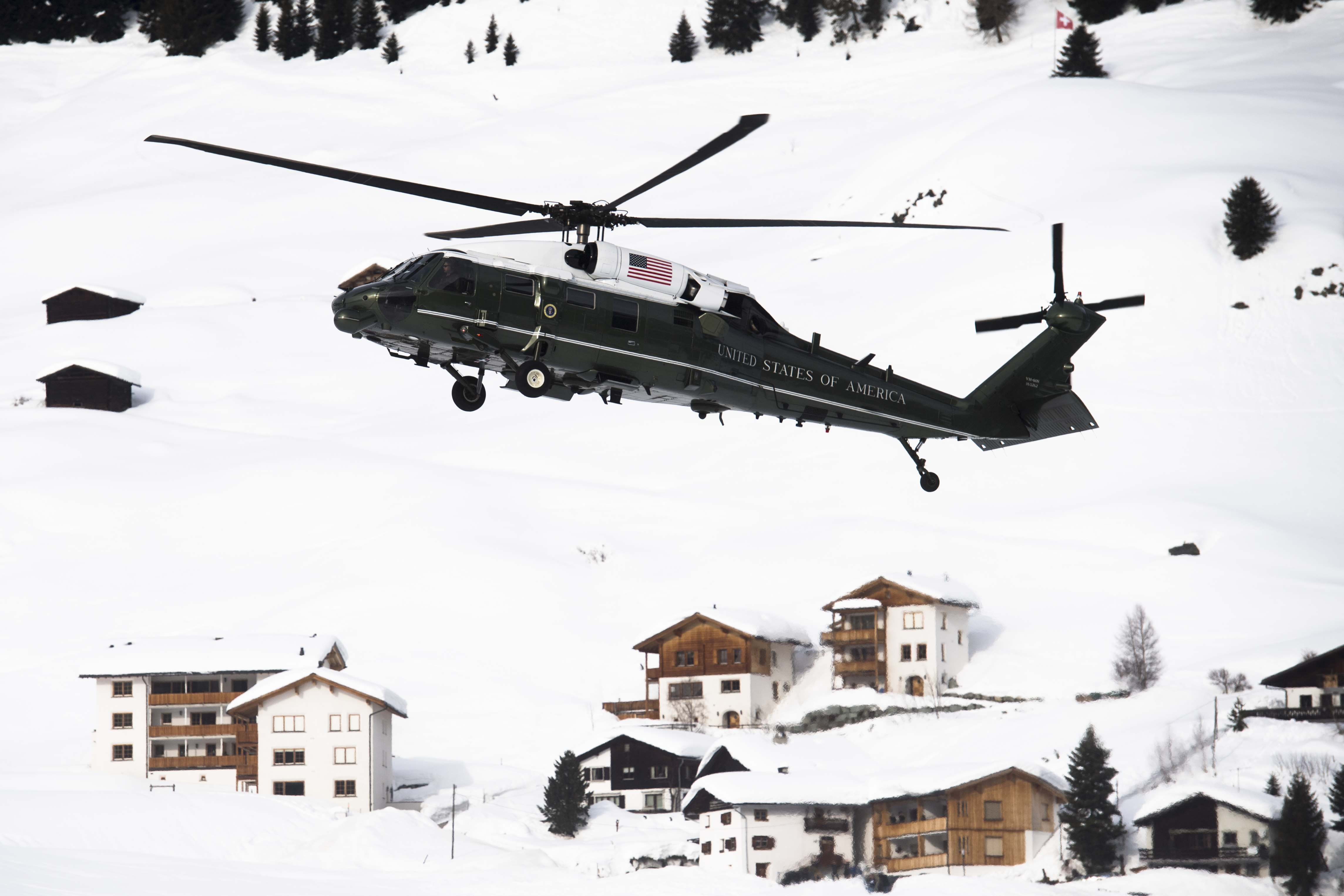 By CATHERINE LUCEY
Associated Press
DAVOS, Switzerland (AP) — President Donald Trump barreled into a global summit in the Swiss Alps on Thursday, threatening to stop U.S. aid to the Palestinians and dismissing as a "false rumor" the idea that there are tensions in the U.S. relationship with Britain.
Trump's debut appearance at the glitzy World Economic Forum was hotly anticipated, with longtime attendees of the free-trade-focused event wondering how the "America First" president would fit in. Crowds clustered around Trump as he entered the modern conference hall, the president telling passers-by that he was bringing a message of "peace and prosperity."
Trump framed his visit as a sign of positive things happening for the U.S. economy.
"When I decided to come to Davos, I didn't think in terms of elitist or globalist, I thought in terms of lots of people that want to invest lots of money and they're all coming back to the United States, they're coming back to America," the president told CNBC.
His meeting with Israeli Prime Minister Benjamin Netanyahu, a close ally, was their first since the president announced earlier this month that he would recognize Jerusalem as Israel's capital and move the U.S. embassy there. The declaration delighted Netanyahu and outraged Palestinians, who declared a new U.S.-led peace push dead and refused to meet with Vice President Mike Pence during his recent visit to the Mideast.
Trump took that as an affront.
"They disrespected us a week ago by not allowing our great vice president to see them and we give them hundred of millions of dollars in aid and support," Trump said. "That money is not going to them unless they sit down and negotiate peace."
Netanyahu was effusive in his praise for Trump, saying the president's recent announcement on Jerusalem was a "historic decision that will be forever etched in the hearts of our people." The Palestinians, in turn, said Trump's "language of dictation is unacceptable," in the words of spokesman Nabil Abu Rdeneh.
Past American presidents have expressed irritation with the Palestinian leadership but no previous administration has threatened to cut off assistance to the Palestinians unless they agreed to negotiate with Israel.
Washington has contributed over $5 billion in economic and security aid to the Palestinians since the mid-1990s. Annual economic aid since 2008 has averaged around $400 million, much of it devoted to development projects. State Department spokeswoman Heather Nauert said all bilateral assistance to the Palestinians, including economic security aid, is at risk if the Palestinians don't come to the negotiating table.
Trump, who has called an agreement to end the Israeli-Palestinian conflict the "ultimate deal," said Thursday that he had taken Jerusalem— one of the thorniest issues — "off the table," although U.S. officials have stressed repeatedly that the decision has no impact on negotiations over the borders or sovereignty of the holy city. Trump told Netanyahu that Israel had "won" on the matter but would have to make concessions to the Palestinians in any eventual talks.
Trump met separately with British Prime Minister Theresa May, batting away the idea that their relationship is strained after he canceled a recent visit to London and May criticized him for retweeting a U.K. far-right group's anti-Muslim videos.
Trump declared it a "really great relationship." May described it as a "really special relationship."
But their meeting was more muted than Trump's session with Netanyahu and they did not respond to shouted questions about the videos.
After the meeting, May's office said the two leaders "concluded by asking officials to work together on finalizing the details of a visit by the President to the UK later this year." White House officials said the visit would be a "working visit," featuring less pomp than a full state visit. They said plans for an official state visit would come later.
Absent from the Davos scene: first lady Melania Trump. She was originally scheduled to attend the forum but later scrapped that plan, citing scheduling and logistics problems. The reversal came after reports emerged of an adult film star's account of an alleged affair with Donald Trump in 2006.
Trump is the first sitting president to attend Davos since Bill Clinton in 2000. The protectionist-leaning president's last-minute decision to attend the annual gathering for political and business elites was unexpected. Trump has criticized global pacts, withdrawing from the Trans-Pacific Partnership (TPP) on trade, demanding changes to the North American Free Trade Agreement and announcing his intent to exit the Paris climate accord.
But he drew enthusiastic praise for his tax-cut law at a dinner that he hosted Thursday for more than a dozen business executives from Nokia, Adidas, SAP and other companies, with the business leaders praising his tax plan and pledging to invest more in the United States before their tucked into their beef tenderloin.
Trump called the assembled executives, all male, "some of the greatest business leaders in the world," before asking them to go around the table and talk about how their businesses are doing in the U.S.
While the businesses praised Trump, another Davos takeaway was that, without Trump's participation, other countries are still moving forward with trade deals.
Canadian Prime Minister Justin Trudeau revealed at Davos this week that his country and the 10 remaining members of the Trans-Pacific Partnership have revised their trade deal following the U.S. withdrawal.
Trump said in an interview with CNBC that he would consider re-entering the TPP if it was a "better deal" for the U.S.
"The deal was terrible, the way it was structured was terrible," he said.
Top Trump officials this week insisted that "America First" did not mean "America alone." Treasury Secretary Steven Mnuchin said the philosophy simply means that "President Trump is looking out for American workers and American interests, no different than he expects other leaders would look out for their own."
Other administration officials had a clear message for critics.
Transportation Secretary Elaine Chao said Davos "should feel very flattered" by Trump's attendance. She added: "Those that don't want to listen, you can — they can — leave."