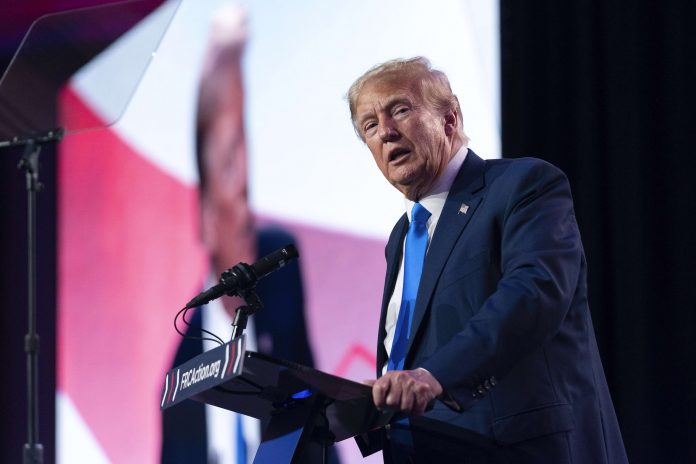 By Thomas Beaumont
Associated Press
CEDAR RAPIDS, Iowa (AP) — Donald Trump on Saturday called for a show of strength in Iowa, arguing before big audiences that dominating in the Republican presidential caucuses in January would signal to voters around the country his strength in the November election next year.
"We have to win big," Trump told about 2,500 in a downtown Cedar Rapids hotel ballroom on his second of stops, part of a fall push to lock in supporters. "I think we're in great shape in the primary. But it sets a tone for the general election."
Trump's afternoon stops in Waterloo and Cedar Rapids were his third and fourth in a little more than two weeks, part of a stepped-up campaign schedule as the opening contest for the 2024 Republican nomination approaches. Late-summer polls of likely GOP caucus attendees showed Trump well ahead of his opponents.
Trump, who has drawn big audiences to eastern Iowa events in recent weeks, is expected to return again in mid-October, as Florida Gov. Ron DeSantis hopes to reignite attention with a stepped-up Iowa campaign and as former South Carolina Gov. Nikki Haley seeks to seize on new interest since the two GOP presidential debates with a built-out Iowa operation.
Trump drew 1,700 people in Waterloo for an event aimed at encouraging attendees to pledge to support him in the caucuses, which are scheduled for Jan. 15. Hundreds more people waited outside, a sign of his advantage in the state and nationally.
The former president blamed President Joe Biden for Hamas' surprise attack on Israel, alleging Biden had demonstrated weakness that emboldened U.S. adversaries. He also renewed his attacks on New York Attorney General Letitia James, whose office is pursuing a civil fraud case currently on trial. Trump called James "grossly incompetent" and "an evil person."
James has accused Trump of grossly inflating the value of his assets in making business deals and securing loans. A judge ruled last month that Trump had committed fraud and the ongoing trial is to determine potential penalties.
Campaign advisers have said they expect Trump to win the caucuses, which are precinct-level, party-run meetings where party members also register the first votes of the 2024 GOP campaign.
Other campaigns are trying to cut into his lead in Iowa.