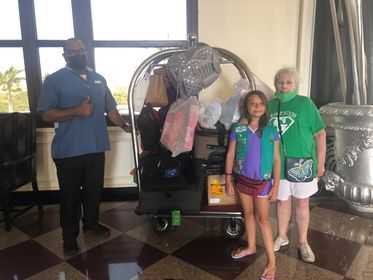 We at Aruba today love sharing all kinds of happy news with our readers especially when it comes to the generosity of our loving guests. Many visitors not only come to our island for the sun, food and happy times but many of them also bring things for our children in need. This is the case of a lovely family from New Jersey. Here's their story.
Jennifer Lynn and Jane Koegel have been coming to Aruba for over 15 years. Jennifer's daughter Jessica has been coming since she was 2 months old back in 2011. This is Jessica's 11th trip to her favorite island. This lovely family recently finished a fundraiser for Aruba. They raised over $1300 and collected items for the youth of the orphanage 'Kinderhuis Imeldahoff' in Noord and the children that attend the homeschool in Paradera. The school was able to purchase new chairs for the students and teachers as well as tables to accommodate new enrollment for the upcoming school year.
Donations of school supplies were gathered by Girl Scout troop 490 from Long Island and also Jessica's girls scout troop 97130 from Wood-Ridge, New Jersey, which donated many items for the youth such as Barbie's and personal hygiene supplies. Tourists from all over contributed with this cause by bringing items in their own luggage and afterwards brought these to Jennifer at the Riu Place where they were staying. The family is beyond grateful to each and every one who helped and supported her for the second time with this cause. Friends and family to total strangers all came together with 1 sole purpose; Making a difference in a child's life.
On behalf of Aruba Today, we would like to thank Jennifer, Jane and Jessica for this wonderful gesture. Just like them we know there are many visitors who also do this and we truly appreciate each and every act of kindness towards our residents especially our children in need. Thank you!