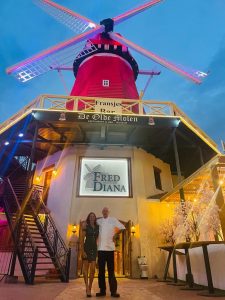 This unique restaurant situated in Aruba's only Dutch windmill is definitely worth a visit. With the essence of the Netherlands combined with the warmth of Aruba, you are in for a real Royal treat.
Breakfast with Princess Diana
Do you want to start your day with the most mouthwatering pancakes? What are you waiting for? Take a stroll until the end of the strip where you will find the one and only Dutch windmill on the island! Walk in, take a seat and have yourself a Royal treat. The staff will welcome you with the biggest smile and make sure that you feel right at home. There you can choose from a great variety of Dutch pancakes with fresh fruits, sweet & salty pancakes or just regular ones which you can personalize with an extra side of fresh fruits, bacon or just plain yoghurt with the option to add banana to the yoghurt. And for the kids there is a special option of 5 little smiley pancakes with sprinkles. Combine your breakfast with a hot and strong coffee of choice: from Dutch coffee, espresso or double espresso to a nice and rich latte or cappuccino. Also tea and hot chocolate with whipped cream are on the famous menu. Or, you can just go wild and ask for one of the most delicious Special Coffees. Cold drinks are also available! Frappe, Iced coffee, sodas and juices, but also mimosas, prosecco and of course, Bloody Mary to wipe out the bloody hangover from the night before.
Dinner with King Fred
From 5pm – 9.30pm you can take your wildest ride with the most popular chicken dishes on the island! Kick start the night with a bowl of soup or an appetizer to tickle your palate. Chicken with foie gras ravioli, chicken cheeser or King Fred's famous chicken salad with apple, walnuts, parmesan cheese and sweet & sour dressing are part of the appetizer menu.
Main dishes
King Fred is all about chicken and chicken only. Not just chicken but, Fred's chicken! On the menu you have an array of chicken dishes like Drunk chicken, prepared in red wine and served with mashed potatoes and mushrooms; Chicken parmesan and pasta smothered in a rich tomato sauce; Indian chicken served with rice, potatoes, green beans & curry masala sauce; Italian chicken pot pie with spinach, mushrooms and creamy Italian sauce under a puff pastry sheet; chicken truffle tagliatelle pasta with chicken and creamy truffle sauce; a juicy Chicken burger prepared with our homemade spice mix on a slice of brioche bread with bacon strips, onions, mushrooms, lettuce, Gouda cheese, piccalilli mayonnaise, French fries & coleslaw.
It's been said that Fred's chickens are the ones to die for!
Compliment your dish with a side of your choice and voila..!
For the meat and fish lovers, ask your waiter for the options because we love you too.
Drinks
The drink menu is carefully selected with the most popular cocktails, wines and beers.
After dinner you can enjoy one of the delicious special made coffees or after dinner cocktails, or you can hop upstairs to Fransjes Bar by Frans, who is a well-known bartender in the Aruban hospitality industry. He will serve you cold drinks and a great view for a reasonable price.
Make your reservations now! King Fred & Princess Diana opens from Wednesday – Sunday from 8am – 1pm for breakfast and from 5pm – 9.30pm for dinner!
Situated in Aruba's only Dutch windmill, walking distance from all the major hotels.
King Fred & Princess Diana Restaurant is the best place to end your vacation!