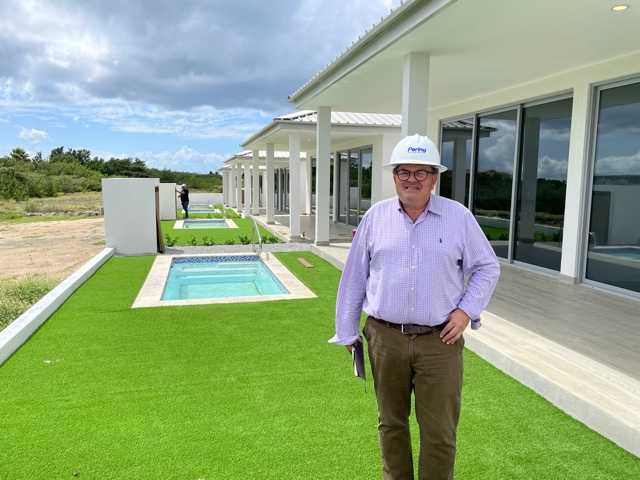 Alberto Perret Gentil is the for VP International Operations for the Pering Group, a 70 year old real estate development company with 20 years already in Aruba and four exclusive projects under their belt, all with beautiful ocean views and great amenities: Oceania Residences, Blue, Azure Beach Residences and Harbour House.
We catch up with Gentil inspecting the final details on the construction of The Villas at Azure Beach Residences.
We hear construction prices are increasing. What is your take?
"Construction costs have increased in the last year close to 28% for various reasons. Mainly factories closed worldwide due to Covid and caused a disruption in the supply chain with port capacity constraints in China among other places. The increase in materials and labor; steel prices through the roof due to lower production, trade wars, Canada not exporting wood to the US, less labor available given the subsidies and more restriction in immigration and a very long process etcetera.
Also because of higher demand for goods as people stayed home during the pandemic without going out and spending on entertainment/restaurants and thus have more disposable income to buy stuff. Just to give you an idea; a container from China now costs $22,000 vs $5,500 previously. And on top, import duties in Aruba include the (increased) freight cost in its calculation (CIF value)."
Are these costs reflected in the condominium and house sales prices?
"Not yet but will sooner than later. After a market analysis of construction costs and behavior of condominium prices in the Caribbean and the US it is clear to me sales prices will increase shortly. Why?
Historically prices in Aruba have been 15% lower than Brickell-Miami; now they are 40% lower, and that gap will eventually close. In South Florida there are many factors for this price hike; people moving from NYC and California, low interest rates, better climate, the trend of a flexible workplace with the possibilities opened by the likes of Zoom and Google Meet, Blackstone and others, private equity funds buying residential real estate, higher construction costs, Latin Americans moving in driven away from socialist/communist regimes and so on.
And many of these factors should and will affect Aruba real estate prices as well. Workation and the trend of flexible workplaces is certainly one of them more so with 14 daily flights from/to the US. Aruba is safe,  has the best infrastructure in the Caribbean and a much better climate and beaches than for example South Florida. By the way, not many people know this, but Aruba has the best internet in the Caribbean.
·       Covid pretty much under control.
·       A lot of outdoor space to roam around and with a great and sunny weather.
·       Construction costs are already 25%-30% higher and sales prices have not adjusted (yet).
·       Resale of Inventory by Venezuelans that bought as a weekend getaway eager to sell as they emigrated given the political circumstances will be reduced in this coming winter season.
·       Very few oceanfront lands left for new condo developments and a moratorium for new condos in place. A simple equation of supply and demand."
What are you doing about it?
"Unfortunately for us we have very little inventory left for sale but will certainly increase prices as other developers are already doing. Pre- Covid prices are history.
We see another clear trend on longer stays, a high demand for premium houses and villas that are selling like crazy as people want to remain private (only one left at The Villas – Azure Beach Residences). Also, for townhouses with private pools, ground floor units and Pent Houses with the possibility of turning one room into an office. Contrary to my previous belief I even think there is room for oceanfront multi-million-dollar houses. Build them and those super rich will come. In the case of Harbour House we created a Co-Working space with all the services that has been a hit among buyers as even though they want to work from afar in their dream destination they want to socialize, have a good coffee and a quiet place to work away from the family running around in their condo."
Any final advice?
"Hurry up!! Look for experienced developers with a good track record. Take advantage of the low interest rates and remember that investing in real estate is all about location, location, location; stay close to the Ocean."
For any questions you can always contact:
Blue Aruba Realty
+1 297 5946395  | +1 888.927.3471