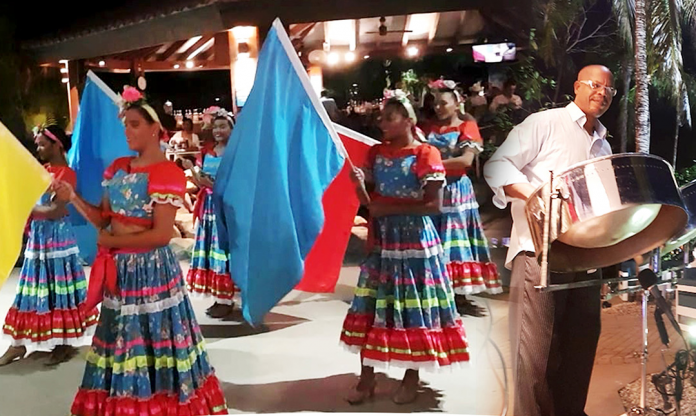 A weekly calendar with a selection of what's going on in Aruba.
Wednesday 18
12 days of Christmas
12 Days of Christmas" December 11 – 22 is back by popular demand. Celebrate the 12 Days of Christmas by visiting Eagle Casino each of the 12 days to earn a chance to win holiday prizes.
8 – 11pm
Facebook: Eagle Aruba Resort & Casino
Thursday 19
4th Anniversary of 'A Touch of Aruba'
Experience a cultural show with a Christmas touch. A wonderful evening filled with Music, Dance and Art.
7:30 – 9:30 PM
Divi Village Golf & Beach Resort
Facebook: Divi Village Golf & Beach Resort
Friday 20
Cadushi Festival 10th Edition
Cadushi Festival is an inspirational festival aimed at promoting a move conscious lifestyle and highlighting the importance of supporting local artists, artisans, small business owners and creative's in general. Local vendors, food & drinks, Art, love music and much more.
6PM-11PM
Ex Bushiri Hotel Cadushi Festival
Facebook: Cadushi Festival
Saturday 21
Energy Fusion show
Energy fusion is performed at the Divi Tamarijn Hotel by the Popcorn Dancers, one of Aruba's best Youth Dance Group. During the show the performers will entertain you with the most popular Modern, Caribbean, Latin & Local dance rhythms on the island. The Popcorn Dancers & magicians Jovi & Tridini are determined to bring pleasure for your eyes, ears, heart & soul.
7pm
Divi & Tamarijn Aruba
Facebook: Divi & Tamarijn Aruba
Sunday 22
Chanukah 2019 with Chabad of Aruba
First night of Chanukah candle lighting ceremony which will commence the 8-day long celebration of Chanukah – the Jewish holiday of lights- will feature a lighting of the 8 branched Menorah with Governor Boekhoudt in attendance.
3pm
Ritz-Carlton Aruba, Beach Front
www.jewish aruba.com
Monday 23
Hanukkah, the Festival of Lights 2019
Beth Israel cordially invites you to the Festival of Lights 2019 with guest singer from USA Luis Cattan and local musicians. A night filled with songs, rikudim and Hanukkah donuts
6:00-7:30PM
Paseo Herencia Amphitheater
Facebook:  Beth Israel
Tuesday 24
All I want for Christmas is steak!
Christmas should be celebrated in style and with a lot of attitude. Book your holiday event at LGS for an unforgettable experience. A special 4-course holiday menu has been created just for you.
From 6 PM
L.G. Smith's Steak & Chop House, Renaissance Mall
Facebook L.G. Smith's Steak & Chop House