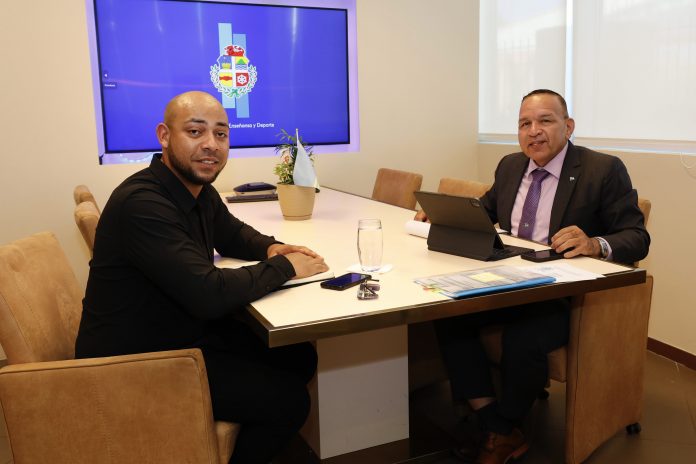 Last Thursday, minister of Sport, Endy Croes met with Mr. Shurty Tremus, organizer of the successful youth championship Baseball in Paradise. The third edition of this championship will take place in October.
The date for the championship has been set to 9th-14th of October 2023. It will be played in four different categories: Under-12, U14, U16, and U19 years.
On the 8th of October there will be an Open Showcase, where 25 international scouts, mainly from the United States, will be present in Aruba. The young people who register for this event will be seen by the scouts. At the end of the competition, the scouts will select two teams from all the talent they have seen that they believe have potential. The selected teams will play a prospect game so that they can be seen more closely, and this will create opportunities for our athletes.
Minister Croes indicated that until now, there are 44 teams that have registered, of which 14 are from Aruba, one from Canada, 11 from Curaçao, 6 from the Dominican Republic, 7 from the Netherlands and 4 from Mexico.
The organizers are checking for the possibility to bring some umpires from abroad. There will also be an expert in Aruba to give a workshop on online scoring.
Aside from the parks that Mr. Tremus is negotiating to use – Joe Laveist Sport Park, Pos Chiquito Ballpark and Compleho Deportivo Crismo Angela y Nadi Croes – the organization Baseball in Paradise are meeting to use additional parks during the week of the championship, among others, the park of Duracell, Centro di Bario Noord, Xander Bogaerts Ball Park, Maria Maai and they will also meet with those in charge of Flatstone Ballpark.
To conclude, minister Croes emphasizes that it was a good meeting and he wishes Mr. Trmus and Future Stars Baseball Academy a lot of success with the preparations for the third edition of Baseball in Paradise.
According to their website, "Baseball in Paradise is an international youth baseball tournament that is held annually in the Antilles. This non-profit tournament is a place where kids from all over the world can come and play the game they love, on a little piece of paradise! Anyone can enter Baseball In Paradise! This goes for existing teams, clubs, and baseball academies, as well as new teams put together especially for participation in our tournament! Teams can enroll in the age classes U12, U14, U16, and U18 (19), with the minimum player age of 8 years old for the youngest players. Registration is done by filling in the registration form and agreeing to the general terms and conditions therein."